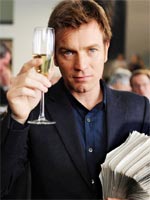 This news actually dropped a few weeks ago, but I neglected to mention it while I was distracted with Venice goings-on. Anyway, since the award was presented at the San Sebastián Film Festival this past weekend, it seems appropriate to bring it up now.
FIPRESCI, the international critics' association, is best known for the independent awards they dish out at most major film festivals — which, obviously, tend to line up more with critical consensus than jury decisions. (At Venice last week, for example, they chose the widely admired Russian entry "Silent Souls.")
However, once a year, they poll their collected membership to elect a Grand Prix winner for Film of the Year. A list of past winners of the prize, awarded since 1999, reads rather like a greatest-hits compilation of recent arthouse cinema: "There Will Be Blood," "4 Months, 3 Weeks and 2 Days," "All About My Mother," and so on.
So, what's their Film of the Year for 2010? Roman Polanski's "The Ghost Writer."
It's at this point that I think progressive media loyalty to Polanski may have gone into overdrive: "The Ghost Writer" is an elegantly crafted little thriller, with a campaign-worthy performance by Olivia Williams in the mix, but I'm having a tough time swallowing it as the most significant achievement in world cinema of the past 12 months. I fear voters have put the backstory ahead of the filmmaking in this instance.
Of course, it's not the first time Polanski has been prominently (and somewhat unexpectedly) honored this year: he took Best Director at the Berlinale in February. It does make me wonder whether the director's band of supporters in the Academy might show up for the film come nomination time — despite its low profile and early release date. In a decidedly sparse Best Adapted Screenplay field, for example, perhaps this is a dark horse to keep on eye on.
For the record, here is the full list of FIPRESCI Grand Prix champs:
1999 "All About My Mother," Pedro Almodóvar
2000 "Magnolia," Paul Thomas Anderson
2001 "The Circle," Jafar Panahi
2002 "The Man Without a Past," Aki Kaurismäki
2003 "Uzak," Nuri Bilge Ceylan
2004 "Notre Musique," Jean-Luc Godard
2005 "3-Iron," Kim Ki-duk
2006 "Volver," Pedro Almodóvar
2007 "4 Months, 3 Weeks and 2 Days," Cristian Mungiu
2008 "There Will Be Blood," Paul Thomas Anderson
2009 "The White Ribbon," Michael Haneke
2010 "The Ghost Writer," Roman Polanski
[Photo: Summit Entertainment]