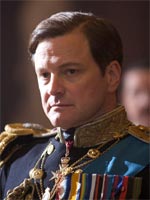 Well, in case you weren't already convinced, you can pretty much write a Best Picture nod for "The King's Speech" in ink now. Following in the footsteps of such titles as "American Beauty," "Slumdog Millionaire" and "Precious," The Weinstein Company's period drama just took the People's Choice Award on the last day of the Toronto Film Festival — confirming that the film plays across the board.
Of course, it oversimplifying matters to say that Toronto's audience award equals a Best Picture play; indeed, only three winners in the last decade have gone on to secure a nomination for Oscar's top prize. But when a film enters the festival with that much advance buzz and then makes good on it, it's fair to say that the script is being followed.
The runner-up prize, meanwhile, went to the British-South African co-production, "The First Grader," an inspirational true-life drama about an 84 year-old Kenyan man starting school — seemingly the kind of  sentimental human-interest crowdpleaser that is catnip to festival audiences, even if critics have been more divided.
The other potentially significant prizewinner out of the festival is Denis Villeneuve's French-language "Incendies," which took the Best Canadian Feature award. The film was also extremely well-received at Venice — sadly, I missed my window of opportunity to see it due to scheduling clashes — and could be one to watch in the Best Foreign Language Film category if, as seems likely, the Canadians choose to submit it.
Full list of TIFF winners after the cut.
People's Choice Award: "The King's Speech"
Runner-up: "The First Grader"
People's Choice Award (Documentary): "Force of Nature: The David Suzuki Movie"
Runner-up: "Nostalgia for the Light"
People's Choice Award (Midnight Madness): "Stake Land"
Runner-up: "Fubar II"
FIPRESCI Prize (Special Presentations): "L'Amour Fou"
FIPRESCI Prize (Discovery): "Beautiful Boy"
Best Canadian Feature: "Incendies"
Best Canadian Debut Feature: "High Cost of Living"
Best Canadian Short: "Les fleurs de l'âge"
[Photo: The Weinstein Company]