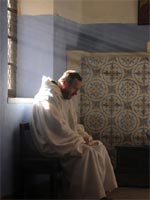 As you may have noticed, we've been doing our best to keep you abreast of submissions for this year's Best Foreign Language Film Oscar — the deadline for which is officially (but not definitively) October 1. At last count, 27 countries have entered films, and we now have a separate page where you can keep track of the growing list. (You can also find a link to it under the foreign-language category in the right-hand sidebar.)
The most prominent contender to enter the race since my last update is France's "Of Gods and Men," also known on these pages as the monk movie I embarrassingly couldn't stay awake for at Cannes, where it wound up taking the Grand Prix. (We'll be having a rematch at the London Film Festival next month — I look forward to tackling the film again with more than two hours' sleep behind me.)
It's a wholly unsurprising pick, following as it does the country's simple selection formula since 2007: just choose the French film that took the highest honors on the Croisette. It's worked for the last two years running, with "The Class" and "A Prophet" both landing nominations.
Still, I wonder if Xavier Beauvois's meditative (read: molasses-slow) documentation of the 1996 massacre of a group of Trappist monks in Algeria might not be a tougher sell to the Academy — even if, like those last two nominees, it has Sony Pictures Classics in its corner. The film is certainly noble enough for the voters' liking, but may be a touch on the austere side. Obviously, I'll be in a better position to judge once I've seen more than 30 minutes of the film.
The selection must come as a bit of a blow to France's more upbeat, middlebrow crossover contender "The Concert," which was being floated as a Best Picture possibility a few months back. (Now that The Weinstein Company has a solid horse in "The King's Speech," I'm guessing that's the last we'll hear of it.) I maintain that "The Concert" — turgid schmaltz that has nonetheless found a receptive audience — would have been an automatic nominee (and possible winner), so I'm grateful that the French have aimed a little higher.
People tend to think of France as the default nominee in this category, but lately, Germany has been on even more of a roll, with five nominations (and one win) in the past six years. This year's entry, Feo Aladag's "When We Leave," doesn't sound like the best bet to extend that run, even if it did take top honors at the Tribeca Film Festival in May. A study of a young Turkish-German woman asserting her independence, it is, unlike the country's five recent nominees, not a period piece. (Nor is it even tangentially about the Holocaust.)
The one German submission in the last six years not to impress voters? Fatih Akin's praised-to-the-skies "The Edge of  Heaven," a contemporary drama centered on Turkish immigrants. Go figure.
"When We Leave" premiered at the Berlinale in February, as did Turkey's recently-announced submission, "Honey" — the film that won the festival's Golden Bear award in a tepid Competition year. Typically, I managed to miss it while I was in Berlin, though there was little talk about it leading up to the prize. On paper, the film reads like catnip to this voting branch — mute 6 year-old boy goes in search of his beekeeper father — but I also gather it's rather a remote piece of work.
Also new to the race since my last update: Belgium's "Illegal," Slovakia's "The Border" and Switzerland's "La petite chambre." Check out the in-progress submissions list here, and do chip in with any perspective you may have on the contenders.
[Photo: Sony Pictures Classics]