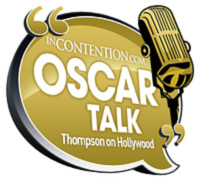 Welcome to Oscar Talk.
In case you're new to the site and/or the podcast, Oscar Talk is a weekly kudocast, a one-stop awards chat shop between yours truly and Anne Thompson of Thompson on Hollywood. The podcast is weekly, every Friday (except today) throughout the season, charting the ups and downs of contenders along the way. Plenty of things change on route to Oscar's stage and we're here to address it all as it unfolds.
Apologies for the tardiness this time around. Anne has been in transit from Toronto and we kept missing our windows, but she's back home now and we offer a little more for you to chew on this weekend. Let's see what's on the docket…
• We chart what's hot coming out of Toronto, including strong positioning for "127 Hours" and "The King's Speech" (which we discuss at length), making good on the buzz initiated in Telluride.
• One film picked up this week that came on strong was John Cameron Mitchell's "Rabbit Hole." Having seen it at the fest, Anne offers her thoughts on the film and it's Oscar potential in the performance categories. Kidman launches into a tight Best Actress category that already includes Sally Hawkins in "Made in Dagenham" (which went over well at the fest).
• Ben Affleck's "The Town" released yesterday to glowing reviews and solid box office, which raises the question: Could it be a contender? The instinct is no but maybe with added box office power and a widened field that caters to this kind of thing, who knows? We talk about the possibilities.
• Sofia Coppola's "Somewhere" won the Golden Lion last weekend, which caught a number by surprise. But is that going to matter much for an awards play? We think not, but it certainly helps with marketing.
• While most of the industry was up in Toronto taking in the latest contenders, Scott Rudin and company stole the fest's thunder by screening "The Social Network" in New York and Los Angeles. Anne will see it next week but I offer up some thoughts on the film once more and touch on its connection to "Catfish," which opens this weekend as well. We'll discuss both more when Anne gets a look.
• Speaking of "Catfish," which is drawing accuracy suspicions, we talk about "I'm Still Here," which was revealed (officially) this week as a hoax. Anne has some strong thoughts on all of that.
Have a listen to the new podcast below, leading off with a little Boston flavor. If the file cuts off for you at any time, remember you can click the download link to save it directly or play from the source. And as always, remember to subscribe to Oscar Talk via iTunes here.
[display_podcast]