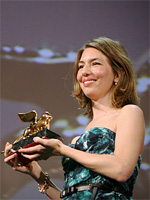 • Sofia Coppola's "Somewhere" surprised many by taking top honors at the Venice Film Festival; we took a closer look at the Lido winners.
• Meanwhile, we were considerably less than wowed by the festival closer, Julie Taymor's "The Tempest."
• This week's Off the Carpet column reflected on the unusual depth of this year's Best Actress race.
• A race that subsequently got even deeper as Lionsgate made the biggest acquisition thus far of this year's Toronto fest: Nicole Kidman's comeback effort "Rabbit Hole."
• Perhaps the biggest Oscar story to land this week has few women to speak of: we offered an early appraisal of David Fincher's "The Social Network."
• Ahead of its Toronto bow, we forecast potential Oscar success for true-life Britcom "Made in Dagenham."
• Also in Toronto, Clint Eastwood's latest prestige project "Hereafter" split critical opinion.
• As Casey Affleck and Joaquin Phoenix finally came clean about "I'm Still Here," we considered one of the year's other major is-it-or-isn't-it docs, "Catfish."
• The foreign-language Oscar race continues to gather contenders, including critically beloved Cannes winners "Uncle Boonmee Who Can Recall His Past Lives" and "Dogtooth."
• If all this festival-related Oscar talk is getting to you, Chad continued his weekly trawl through the films that needed no Academy love to gain classic status.
• Finally, Claude Chabrol, the prolific French New Wave master, passed away at the age of 80; we paid our respects.