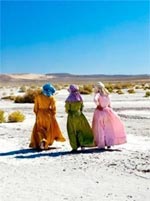 Since word spread out of Venice of Michelle Williams's strong performance in Kelly Reichardt's superb Oregon Trail western "Meek's Cutoff," some of our more excitable commenters have been projecting a kind of two-pronged awards attack for the actress, who has another excellent showcase in December release "Blue Valentine."
We warned you all along that "Meek's Cutoff" wasn't likely to hit theaters in 2010, and we were right. Boutique distributor Oscilloscope has just acquired the film at Toronto, and will release it next year — the right call, given that a quiet wonder like this one would likely get lost in the crush of awards season.
Oscilloscope (that's Beastie Boy Adam Yauch's outfit, in case you'd forgotten) also handled Reichardt and Williams's last collaboration, "Wendy and Lucy"; I was hoping that their latest might prove accessible enough to attract one of the bigger boys in the indie playground, but I'm sure the company will do right by them. Yauch himself seems rather taken with the film; his statement (via indieWIRE) after the cut.
It is an honor to work with filmmakers of this caliber, especially given the fact that, through the process of releasing "Wendy and Lucy," we have become friends with them, so really I could not ask for more … As a side note, "Meek's Cutoff" is so real feeling and looking that I suspect Kelly may have stolen our plans and completed work on a time-machine that we had been putting the finishing touches on, and that "Meek's" is actually a documentary that she went back and shot in 1845. If anyone has any evidence to that effect, please contact me directly ASAP. My email address is any@oscilloscope.net.
You may remember that I fell head over heels for "Meek's" in Venice, where it remained my personal pick of the festival; I have no doubt that it will feature in my Best of 2010 roundup. For those of you not lucky enough to catch the film on the festival track, put it at the top of your 2011 to-do list.