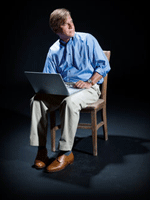 I've been hearing for a while now that Aaron Sorkin's screenplay for "The Social Network," credited in the film as an adaptation of Ben Mezrich's "The Accidental Billionaires" (covered by Guy in Page to Screen here), could conceivably be considered an original work by the Academy.
The first clue was the fact that Sorkin and Mezrich were writing their material separately.  My understanding was Mezrich would send Sorkin pages and they would compare ideas and notes, but Sorkin was not working from a published work and was not "adapting" it into a screenplay.  It kind of recalls the manner in which Stanley Kubrick and Arthur C. Clarke worked on "2001: A Space Odyssey."
I've got a few calls out to some folks to firm this up, but I'm thinking more and more that the case may be perfectly made for an original screenplay classification.  Meanwhile there's a big, fat (as always, amazing) Mark Harris piece in New York Magazine that deals in some detail with all of this.  But, well, it's still just a little unclear.
Consider this passage:
Though Sorkin met with Mezrich in a Boston hotel and the two men later compared notes as they did independent research, each was writing his own version of the story. Mezrich says he handed Sorkin chapters; Sorkin recalls "Ben reading some notes off his computer," but adds, "I don't remember getting written material and didn't get a look at any of the book until the screenplay was almost finished."
More conflicting perspectives.  And even though everyone involved with the film "acknowledges, in almost uniform language, that 'there's no way the movie could have been written without Ben,'" as Harris writes, there is also an insistence that the script was based on the original proposal, not the book.
The next graph, by the way, goes on to mention the thrashing the book received in some quarters upon release due to thin sourcing, so it kind of makes you wonder if there's an effort to put some distance between the film and Mezrich's largely criticized work.  And you can bet that the knives are already being sharpened by those who'd like to hold the film back in the Oscar race due to any questions of accuracy.  It happened to "The Hurricane," it happened to "A Beautiful Mind" and it will most certainly happen again.
Mezrich does a fine job of defending his process, by the way.  He compares it to that of Hunter Thompson or Tom Wolfe, but he might be overstepping by suggesting it could be "a genre [he's] trying to create."  Truman Capote has been there and done that, after all.  But there's nothing wrong with dramatized non-fiction in and of itself.
And Sorkin, for his part, notes that the conflicting stories behind Facebook's genesis made for a device of sorts.  "I didn't choose one [story] and decide that it was the truth," he tells Harris.  "I dramatized the fact that there were conflicting stories."  It comes off like a hitch on screen and makes for a savvy, brilliant (and maybe tactical) sort of creative objectivity.
But it still leaves the question.  At the end of the day, we could see a shift of category classification on this one.  So stay tuned…
[Photo: New York Magazine]