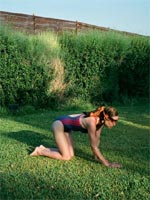 Last year, I was erroneously notified that Greece had submitted Yorgos Lanthimos's boundary-pushing festival hit "Dogtooth" as their entry for the 2009 foreign-language Oscar. As it turned out, they hadn't — and the film wouldn't have qualified under the Academy's release date requirements anyway.
Well, one year later, and here we are again. Except this time, "Dogtooth" has officially been submitted by the Greek selectors, after taking top honors at the country's own national film awards.
All of which immediately positions it as one of the best films in the running for the Academy Award, as well as one of the longest shots to be nominated — unless the bluehair voters who thought "The Secret in Their Eyes" superior to "A Prophet" have suddenly acquired a taste for pitch-black adult fairy tales of sexual repression, incest and feline mutilation. But here's hoping.
In its favor, "Dogtooth" — which has traveled some way in the 16 months since it took the Un Certain Regard prize at Cannes — arrives in the race with a higher profile than it had a year ago, having already been released Stateside to a raft of admiring reviews. (I reviewed it out of the London Film Festival last year, and wound up placing it on my Best of 2009 list — rather too low, in hindsight.)
It's precisely the kind of challenging, significant work that the foreign-language branch's executive committee was designed to assist in the race. (In case you've forgotten the system, this smaller, more discerning committee selects three titles to add to the six voted in by the foreign-language branch to make up the pre-nomination shortlist.) I fear "Dogtooth" will prove too avant-garde even for their sensibilities, but if any critical groups come through for it at the year's end, there's a slim chance the committee may feel suitably compelled. Either way, bravo to Greece for choosing so fearlessly.
Meanwhile, other countries that have entered the race since my last update include Finland ("Steam of Life"), Azerbaijan ("The Precinct") and Croatia ("The Blacks"). If you know anything about these, enlighten us in the comments section.
[Photo: Kino International]