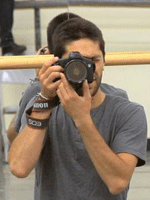 I was instructed very early on by studio friends who saw "Catfish" during Sundance, when it was still looking for a buyer, not to read anything about it.  I have, as a result, instinctively dodged every bite and nugget about the film over the last few months, so much so that you all probably knew more about the film than I did when I walked into the Arclight for last night's final press screening (I'm also good at procrastinating).  And after all, it's been a sponsored Twitter trending topic for a few days now.
What I saw was an absolutely brilliant piece of filmmaking that is staggering when considered in the year of "The Social Network." It's a study of the here and now with just as much focus and an even greater emotional context (if you're looking for it).  And whether it sought to be or not, the film is just as defining of where we are as a society as David Fincher's effort.  Releasing it two weeks before "The Social Network" is also brilliant marketing strategy.
After the jump, I am going to talk about "Catfish" in extensive detail.  There will most certainly be SPOILERS, and I urge you (unless you couldn't care less, of course) not to click through until you've had a chance to see the film.  (The poster even implores, "Don't let anyone tell you what it is.")  That's about as clear as I can be in the way of a warning.  I'd also stay out of the comments section if you want to steer clear of spoilage.  So, if you'd like to proceed…
…still interested?
…seriously…
…last chance…
Okay, so "Catfish" is a documentary that tells the story of an eight-month, developing relationship between Nev Schulman (a New York photographer) and a Michigan family.  Abby, the youngest daughter of the family, is apparently a talented painter who sent Nev a piece built around one of his photographs.  Later, Nev becomes cyber-romantically involved with the oldest daughter, Megan.  And the entire relationship maintains that virtual connectivity because all communication is through telephone, letters, packages and, yes, Facebook.
Nev's roommates, a pair of filmmakers, decide to document his developing relationship.  And soon enough, things start to get fishy (pardon the pun).  Megan, Abby and their mother, Angela, aren't as they appear to be.  First it's the consistent difficulty in meeting up with the family.  Then it's an audio recording of a song Megan sang for Nev that turns out to be a YouTube cover.  More and more, simple web investigation uncovers a massive lie.  As the layers peel back, the levels of deception are increasingly bizarre.  And so the filmmakers take a more confrontational approach, driving out to the family's Michigan home to see what's what.
What they're met with is Angela, a middle-aged housewife with an artistic gift, but her family life is a chamber.  She has a daughter with her husband and also cares for his two handicapped sons from a previous marriage.  She has no outlet for her work and has, amazingly, crafted a facade that goes very deep.  Beyond Megan and Abby is a cast of characters — friends, cousins, etc. — Angela has manifested on Facebook to live out a virtual existence, obviously to escape her actual one.  And the connection she generated with Nev was too meaningful to relinquish.
The instant reaction to this kind of thing is, "My God, what a psycho."  But I was struck by how emotional the story really is.  I couldn't help but feel deeply for someone who (harmlessly, mind you) creates a fake life and lives vicariously through the information and experiences she can be a part of through the internet.
Now, I imagine you know all of that since most will wait to read this until they see the film.  But another thing that hit me was how unbelievably poignant the film is in tandem with "The Social Network." It's no big discovery, obviously.  The parallels are obvious.  And if there isn't a piece in the works at a major outlet built around this concept, I'd be shocked.  But these two films, together, perfectly illustrate where we are.  Fincher's film tells the story of a college kid desperate to connect and to belong.  Underneath everything, that's really what it's about.  And  "Catfish" is very much about the same thing.
In this society of virtual connectivity, the tools to manipulate and deceive are as refined as ever.  A Facebook status update or a simple Tweet is as calculated as anything else one would put out into the public.  We're never really putting who we are out there, only the best possible "who we are" for the virtual circumstance.  The level of control is absolute, and "Catfish" tells a story of extremes in that regard.  The question it raises, in some way, is how much are these tools really deteriorating our sense of identity?  In the midst of a Rosebud moment of sorts, the question "The Social Network" seems to ask with its final frame is, are we really just putting up walls with these new tools rather than bringing a community together in a Thomas Friedman "the world is flat" kind of way?
But they're really both the same crucial question.
Immediately at Sundance suspicions started to arise as to whether "Catfish" is authentic or not.  And that's understandable.  After all, the camera seems to be right where it needs to be throughout, and the narrative is very refined.  Interviews with the filmmakers reveal, I don't know, a sort of awkwardness when the question comes up.  Not to mention, an anecdote at the end of the film (which yields the title) seems a bit too perfect.  I received an email from a screenwriter friend yesterday who maintains that, if real, then it is narcissistic and exploitative (despite the cooperation of all involved, as stated explicitly on a closing card).  If it is staged, the screenwriter said, then it is brilliant satire with amazing performances.
Part of me really wants the film to be staged, because that extra layer of thematic gullibility would be the icing on the cake.  But I happen to think it's real (the filmmakers have said they would present all of their footage to prove as much if it came to it).  It at no point feels put on, as in, from a performance standpoint.  Either way, it is no less amazing.  If staged, it is indeed brilliant satire.  If real, it's one of the best documentaries I've seen in some time.
But it all comes back to that crucial question, and these two films pose it perfectly.
"Catfish" opens in limited release tomorrow.  If you read through this as someone who hasn't seen it yet, then I urge you to check it out.
(I didn't mean to write over 1,000 words, but there you go.)
[Photo: Rogue Pictures]