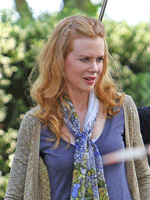 Man, Lionsgate and Roadside Attractions are getting ON IT this year.  First Roadside rolled out the early buzz on "Winter's Bone," then it picked up Alejandro González Iñárritu's "Biutiful." Soon after, Lionsgate announced a fall release for Tyler Perry's "For Colored Girls" and grabbed Robert Redford's "The Conspirator" through Roadside for a 2011 release.
Well, now it looks like Lionsgate is wrapping up its acquisition of John Cameron Mitchell's "Rabbit Hole," which drew praise for Nicole Kidman (a potential nominee now), Aaron Eckhart and Dianne Wiest (welcome to the supporting actress line-up) at the fest.
Talk about having a full plate all of a sudden.  Deadline's Mike Fleming reports that "the plan is to jump right into this year's Oscar race by releasing  the picture  before year's end. They will take advantage of a career performance by Nicole Kidman as a mother who loses her child."  So add one more to "the year of the woman."
What more is there to add to that?  Congrats on a healthy slate of contenders and let the games begin.
[Photo: Buzznet]