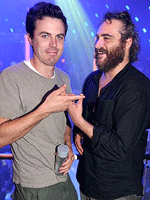 Obviously "Catfish" isn't the only documentary leaving people wondering whether everything we see is legitimate.  Casey Affleck's "I'm Still Here," a chronicle of Joaquin Phoenix's abandonment of his acting career in favor of a passion for, hip-hop has had many puzzled since Phoenix's awkward appearance on The Late Show over a year ago.  I've always felt like it was a put-on but, well, it just never let up.
Well, Affleck would like to come clean.  The clues have been scattered around since the film bowed in Venice, but in an interview with the New York Times' Michael Cieply, Affleck says, "It's a terrific performance, it's the performance of his career."  None of it was real, despite Affleck saying he "never intended to trick anybody."  But the great mystery is settled.
Whether or not the film is as poignant a study of falling from grace is still up in the air.  We can't be sure how much the idea that everything happening was real might have affected the numerous negative opinions of the film.  Then again, in Venice, Guy noted that the film "is probably more interesting viewed as an immensely committed, avant-garde performance piece by Phoenix" and "a ragged but grimly compelling essay on our vile celebrity-news culture."
In any case, the cat's out of the bag, and Phoenix will land back on Letterman's couch — out of character, this time — on September 22.
[Photo: People]