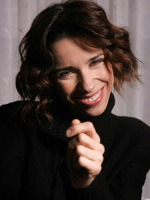 It seems Robert Redford's "The Conspirator" has become the first significant sell of Toronto (a few things have been picked up here and there already).  Lionsgate and Roadside Attractions (which is really stepping it up this year) have nailed down the domestic rights, but go ahead and strike the film from your longlists.  It won't be released until the spring, Deadline's Mike Fleming reports.
Meanwhile, Patrick Goldstein sat down with Sally Hawkins, who has three films at the festival in "Never Let Me Go," "Submarine" and "Made in Dagenham." Andrea Riseborough is in two of those films (as well as "Brighton Rock") and has been getting similar notices, but it's Hawkins who could really make a dent on the season.
In his piece, Goldstein offers that for him, "what makes ['Made in Dagenham'] work so well is that it doesn't treat its story as a weighty political screed."
Sticking with interviews, Movieline caught up with Dustin Lance Black, who brought the melodrama "What's Wrong with Virginia" to the fest.  Says Black, "The way I grew up was extreme. Not only were we in Texas in this Mormon enclave, but you throw in the military, and all the archetypes are blown up. Everything's bigger in Texas — that is true. So I said, 'Well, why not?' The truth is that it's probably closer to my subjective reality of it than if I'd just made it a straight drama. Things  were incredibly funny. Things were childlike and naïve and colorful."
Back to acquisitions, it seems The Weinstein Company won a bidding war for the aforementioned "Submarine." I've been hearing lots of great things about that one so I imagine we'll all be hearing more in the near future.  Meanwhile, Twitter was abuzz last night with positive notices for James Wan's "Poltergeist"-ish effort "Insidious." Sony has nailed down the rights.  And finally, Anchor Bay Films has picked up Shawn Ku's "Beautiful Boy" for English-speaking territories.
Bruce Springsteen also took over the town Tuesday, but I'll get to that in a separate post.  More as it comes…
[Photo: Los Angeles Times]