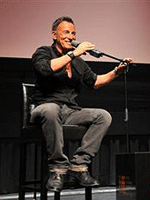 How do you follow up a massively successful, iconic, generation-defining album like "Born to Run?"  How to even attempt to approach that level of stratospheric impact?  Well, Thom Zimny's documentary "The Promise: The Making of Darkness on the Edge of Town" made its way to Toronto last night to help answer those questions, and I knew I could count on The Wrap's Steve Pond to be there, front and center, with a hell of a breakdown of the event (which probably had the biggest draw of the fest), the screening and Springsteen's onstage "Mavericks" discussion with Edward Norton.
Most fascinating is the fact that the conversation (naturally) dealt with the impact of cinema on Springsteen's work.  "Martin Scorsese once said that the artist's job is to get the audience to care about your obsessions," he said.  He called the small-town America of the 1960s and the rumbling underneath which Bob Dylan bubbled to the surface "Lynchian."  He counted the "dark, bloody" pictures of the 1970s as an influence, as well as the work of John Ford, and he outright called his albums "cinematic," which is difficult to argue against.
And the obsession with detail in the meticulously crafted "Darkness," conveyed in the film and discussed by Springsteen in the Q&A, seems to recall the tinkering of a filmmaker, late at night, hovering over the Avid and getting every frame just right.  And perhaps the most resonating quote: "Looking back, I can say maybe it should have been easier. But if it had been easier, it wouldn't have been as hard. And hard was important."
Pond goes on to offer his thoughts on the film, but I don't want to mooch off his coverage any more than I already have here.  It's an awesome four-page piece that deserves a look, whether you're a fellow Bruce obsessive or not.
And I have to say, of all the premieres, all the pomp, all the circumstance of this festival, which frankly seems to be a bit of a bore this year (something I've been hearing from a few on the ground, as well), this is my biggest regret for opting out.  I'd have been there with bells on.  Lucky for us, a seasoned former Rolling Stone journalist was, too.  So give him a read.
"The Promise: The Making of Darkness on the Edge of Town" premieres on HBO October 7.  Here is an excerpt from the film:
[Photo: The Wrap]