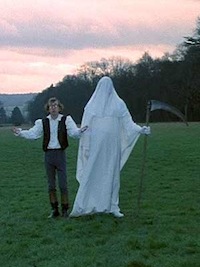 Catch up with the idea behind this series here.
These two years offer two of the best slates of Best Picture nominees ever in my opinion. '75 of course belonging to the second ever winner of the top five awards, "One Flew Over the Cuckoo's Nest." I've got no qualms with that particular film, but for my money, "Barry Lyndon" is inch perfect, every frame.
1976 is viewed as one of the biggest Oscar travesties of all time. "Rocky" beating out films like "Network," "Taxi Driver," and "All the President's Men" doesn't sit well with most cinephiles. Guess what though, "Rocky" is in my top five films of all time and totally deserved it. Don't listen to the haters, Sly!
Stallone would join Charlie Chaplin and Orson Welles as the only people nominated for acting and writing the same film at that time. Lina Wertmuller would also make history as the first female ever nominated for Best Director, possibly taking Marty Scorsese's spot.
The underdog box office champion winning top honors didn't help the broadcast from becoming the lowest rated ever, and the first to last longer than three and a half hours.
1975 – "Love and Death" (Woody Allen)
Woody Allen's entire output from the 1970's is fantastic, each film more interesting and inventive than the last. You could do worse than sitting down and watching them all to see how the figure in the grand career of one of the most prolific filmmakers of all-time, which is exactly what longtime reader James D. seems to be doing over on his blog. Gently nestled between "Sleeper" and "Annie Hall," "Love and Death" represents the moment where Allen decided to stretch his ambition.
In a 1993 interview, Allen stated, "Existential subjects to me are the only ones worth dealing with. Any time one deals with other subjects, one is not aiming for the highest goal. One can be aiming at some very interesting things, but it's not the deepest thing… I just feel that you must- if you're operating at the maximum of your capabilities- aim at very, very high material. And that to me would be the spiritual, existential realm." The man clearly changed his tune before making "Anything Else," but the period that begins with "Love and Death" is sufficiently covered.
The key to what makes Allen so great though, is that he doesn't let these new ideas and themes override his sensibilities. His ability to incorporate existential and intellectual humor into his slapstick physical comedy and sexual innuendos are what truly made him a unique voice. Like the aforementioned Chaplin, he has managed to make an entire career out of more or less portraying the same character, and when done correctly, we wouldn't have it any other way.
He's teamed here with Diane Keaton, for the third time, and the actress sparkles as usual. Their chemistry is cinematic magic and with each film, Allen gave Keaton more room to stretch her considerable comedic talents. Harold Gould, who unfortunately passed away this week, provides brilliant support and features in a duel scene that has to go down as one of the funniest I've ever seen.
It may not be as genre-defining as "Annie Hall," or as self-dissecting as "Manhattan," or even as funny as "Take the Money and Run," but "Love and Death" signals a comedic talent coming to terms with his medium as a playground to explore the issues that matter most. That, in and of itself, is extremely exciting to watch, but even outside the context of the Allen oeuvre, it's an immensely enjoyable film.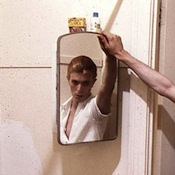 1976 – "The Man Who Fell to Earth" (Nicolas Roeg)
Nicolas Roeg loves fucking with his audience. He never met a non-linear narrative he didn't like and his foray into science fiction was the perfect vehicle for him to get giddy in the editing suite. Loosely, the film is about an alien who comes to Earth in search of water to bring back to his dying planet. He becomes a hugely successful business man to fund this operation, but slowly but surely become entangled in the politics of life on Earth.
First off, Roeg is a genius for casting David Bowie in his film debut. The man perfectly encapsulates alienation from the first frame of his face, but more importantly, probably surprised a lot of people with his delicate, subtle acting. His androgynous appearance is one of many ambiguities that Roeg thrives upon and exploits, but at the end of the day, if he didn't have the chops then the stunt casting is just that.
Rip Torn, Candy Clark and Buck Henry fill out the supporting cast and yes ladies, you do get to see Rip Torn's penis. It's hard to talk about the film in any sort of plot-related capacity. It stands more as a formal and visual storytelling triumph than anything. And I won't stand here and pretend that all of it registers with me, despite multiple viewings. The cross-cutting of seemingly dissociative images is a direct challenge from Roeg to discover just what he's up to. The beauty of the images, by cinematographer Anthony B. Richmond, is more concrete. Can we please save this man from working on films like "Alvin and the Chipmunks: The Squeakquel" these days?
Also of note, is Roeg's deliberate avoidance of Bowie's music. Despite the promotional images of this film and his album, "Low" being identical, and Bowie's output at this point certainly fitting the bill, the film's reluctance to simply be a cross-promotion tool is admirable. Instead former Mama and the Papa, John Phillips, shares score duties with Japanese composer Stomu Yamashta and the results are fantastic and unworldly.
Expanding on the quote from Woody above, Roeg clearly has existential and metaphysical questions on his mind here, and he explores them in a daringly personal way. An almost stream-of-conscious narrative, from the point of view of an outer space being, draped in explicit sexuality and anti-consumerism sentiment is not exactly the type of film the Academy will ever go for. In truth, it's not the type of film I'm likely to go for if you catch me on the wrong day. But "The Man Who Fell to Earth" has always stuck with me and remains a shining example of science-fiction, muddled with ideas that carry no easy answers.
Those are my picks. What do you guys think?
[Photo: Chicago Sun-Times]
[Photo: The Guardian]