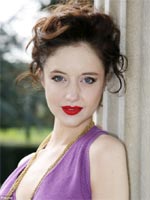 As Kris mentioned earlier, reaction out of Toronto to Rowan Joffe's "Brighton Rock" has, so far, been on the guarded side, though it has found admirers — Time Out's Tom Charity among them. Still, however the film lands, it does at least appear to confirm the arrival of Andrea Riseborough, the 29 year-old Brit who is something of a ubiquitous presence at this year's fest, with supporting roles in "Never Let Me Go" and "Made in Dagenham" boosting her profile.
It's the plum role of Rose — the merits of which I discussed in Page to Screen — in the Graham Greene adaptation that is getting her noticed, however. You might remember that Kris had her in his Supporting Actress predictions until distribution doubts forced her out, but early notices suggest he was onto something. Writing for The Guardian, David Cox suggests that in Joffe's adaptation, "Brighton Rock" emerges more as Rose's story than anyone else's, and that Riseborough carries the film mightily:
[W]hether Joffé intended it to or not, Andrea Riseborough's breathtaking performance as Rose soon overwhelms the drama. To say her achievement deserves an Oscar would be somehow to demean it.
He continues:
Riseborough moves effortlessly and rivetingly from gawky passivity through obsessive infatuation and half-conscious self-deception to dogmatic self-belief, violent obduracy, suicidal devotion and detached resignation. Most of this is achieved through the slightest of facial tremors in unforgiving close-ups. Her portrayal of Rose grips the heart from the beginning and does not let go until the final frame. In the process, it turns the film into a hymn to female suffering, passion, dedication and delusion. Cinema has been here before often enough, but rarely more impressively.
Meanwhile, the Hollywood Reporter's Gregg Kilday deems Riseborough this year's Toronto "It Girl," and devotes an entire profile to her, citing the versatility evident in her three 2010 film roles as proof that she's a star of "real substance."
"Brighton Rock" still needs a US distributor to put it in the 2010 awards hunt, of course — but if it finds one, with the Supporting Actress race still looking so scattered, I wouldn't be surprised to see her return to the sidebar in due course.
[Photo: Daily Mail]