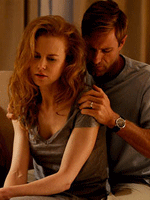 A quick round-up this morning.  First, we already offered some reactions to Rowan Joffe's "Brighton Rock," which is still looking for a distributor.  But things aren't looking great for awards prospects should it land a buyer, as Movieline's Michelle Orange says the film "extends the Graham Green adaptation curse."
Meanwhile, John Madden's "The Debt" could still be in play.  Rope of Silicon's Brad Brevet calls it "a satisfying thriller that is almost so subtle it feels like it's based on a true story."  He later singles out Helen Mirren's performance as "striking," noting that she "brings a commanding and competent presence to her character."
One hotly anticipated title is John Cameron Mitchell's "Rabbit Hole," also still seeking distribution.  Showbiz 411's Roger Friedman Tweets that star Nicole Kidman is "back in Oscar form," while Deadline's Pete Hammond gets a bit more substantial, adding Dianne Wiest to the mix.  "Should it find a distributor this week and get an end-of-year berth," he writes, "past winners Kidman and Wiest both become bonafide Oscar contenders again."  He does warn that it could be perceived as too much of a "downer," though.  Nathaniel Rogers does a much better job of rounding up responses at The Film Experience, though.
Hammond also notes in the his piece that a deal for Robert Redford's "The Conspirator" could be very, very close, by the way.
Finally another actress who has been on our radar all year is Rachel Weisz in "The Whistleblower." The only reaction I've stumbled across (though I admittedly haven't looked hard) is Scott Feinberg's, who says the film "could certainly thrust Weisz into the thick of the best actress race" if a distributor bites.  Also, of Philip Seymour Hoffman's directorial debut "Jack Goes Boating," Feinberg says Hoffman's performance reminded him of Ernest Borgnine's in "Marty." So, something else to keep an eye on.
More as it comes…