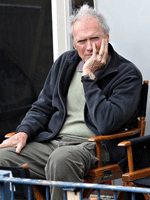 Traditional media are responding to Clint Eastwood's "Hereafter" even if early-bird web folks smacked it down after the first press screening of the film this weekend.  I think it's safe to say that Richard Corliss and Roger Ebert rarely meet an Eastwood film they don't like, but raves in Time magazine and the Chicago Sun-Times can go a long way in an awards season.
Corliss seems to feel that "if you go with his new picture's slow flow, and stick around for its rapturous resolution, you'll see this as a summing up, a final testament of so many Clint characters, from The Man With No Name to Dirty Harry, from Million Dollar Baby's Frankie Dunn to Gran Torino's Walt Kowalski, for all of whom facing down death was a natural part of life."
Ebert, meanwhile, notes that the film "is made with the reserve, the reluctance to take obvious emotional shortcuts, that is a hallmark of Eastwood as a filmmaker" and that "Eastwood and his actors achieve a tone that never forces the material but embraces it."
Jeffrey Wells, on the other hand, seems to see laziness where others see patience.  Calling the picture "Eastwood's weakest film ever," Wells says he does not "sense a strengthening at work here. I feel a lack of inquiry and vigor and snap — a lack of focus and demand, perhaps a little too much of a 'good enough, this'll do' attitude…But you have to suffer a little bit for your art. You always have to sweat it somewhat. Art isn't easy."
I must confess to feeling a bit of that in a number of Eastwood's efforts as of late, so I doubt very much that Wells is stepping out of bounds.  Nevertheless, I look forward to making up my own mind.
Meanwhile, I should point out that Eastwood is playing the usual cards.  Remember all that "the performances are the special effect" talk when "Mystic River" was going head to head with "The Lord of the Rings: The Return of the King" back in 2003?  Well, he's quoted in The Canadian Press as follows:
In this MTV generation that we live in, I think it's something that I still like to embrace: that we actually unfold the stories and get to know the people and get to know a little more detail about them, rather than play to the common denominator or the lack of attention span that sometimes people feel goes on now.
Mind, I don't necessarily disagree with those sentiments.  They are somewhat evergreen, really.  We all want to see refined filmmaking push through.  But is it another calculation to be tossing out these generalizations as the film heads into the awards season?  Kind of a, "Look, remember the good old days" nudge to Academy types?  I'm just asking the question.
[Photo: Zimbio]