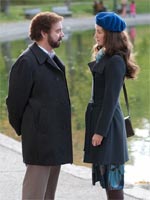 Last night's North American premiere of "Barney's Version" in Toronto was something of a homecoming for the Canadian production — it was, of course, first unveiled on Friday at the Venice Film Festival, where its soft-centered middlebrow appeal rather stood out against the more rigorous auteurism of its fellow Competition titles.
If Richard J. Lewis's film proved too MOR to impress Quentin Tarantino's jury (even Paul Giamatti, much fancied for the Best Actor prize, left empty-handed) it was nonetheless enthusiastically received on the Lido, earning sustained applause, and even a few whoops, at the industry screening I attended. You'd expect, then, its home audience to be similarly receptive, though word seems pretty quiet so far.
Via Twitter, Anne Thompson echoes a view I expressed in my own positive review, saying that "if [Sony Picture Classics] play their cards right, Paul Giamatti could get an Oscar nom" for his performance as a dissolute, thrice-married TV producer. (She later adds that the film's after-party was "lame," but I'm sure she won't hold that against him.)
The reviews that have trickled through since its Venice bow support the Giamatti buzz: Michael Rechtshaffen's near-rave review for The Hollywood Reporter deems his performance "pitch-perfect," possessed of "a stubborn vulnerability that's indispensable to the film's palpable poignancy," and suggests that Canadian and possibly American kudos await him. Variety's Justin Chang is far cooler on the film itself, deeming it a dumbed-down adaptation of a dense novel, but offers generous praise for the star's "marvelously elastic performance."
The kind words aren't only for Giamatti: Dustin Hoffman's terrific comic-relief turn as Giamatti's shabby cop dad is declared "one of his tastiest performances in years" by Screen Daily's Lee Marshall, whose mixed-to-positive review shares Chang's reservations about the adaptation. Indeed, there's across-the-board approval in the trades for Hoffman and Rosamund Pike — suggesting that Sony would do well to zero in on the acting races.
As I implied in my review, however, this is less a critics' film than a mature-audience crowdpleaser, so it's worth keeping an eye (or ear, rather) on how it goes down at its public screenings. With a hometown advantage, I can easily imagine it taking home the festival's often auspicious Audience Award.
Finally, no less an authority than Wales's finest, Rob Brydon, thinks the film is "incredible" and "will win Oscars." Which is nice to know.