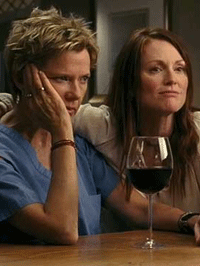 It wasn't by coincidence that the three photos decorating the season's introductory installment of this column two weeks ago represented lead actress contenders in the 2010 Oscar race. After all the talk of 2009 being "the year of the woman," owing much to the number of female directors who found themselves in the mix (and inevitably leading to Kathryn Bigelow's history-making moment at the Kodak), I'm sensing an even better argument for 2010 as a singular season for the fairer sex.
Let's start with the performances. By my count, there are already eight nominatable offerings from lead actresses this year (which contrasts drastically with a dearth of supporting hopefuls).  This is just going by what I've seen, mind you.
For starters, Natalie Portman has dazzled the early festival season with her work in "Black Swan." Lesley Manville, meanwhile (should she remain a lead focus), sets a high bar in "Another Year." Despite my feelings on the film, Carey Mulligan really settles into a next-level groove in "Never Let Me Go," and Jennifer Lawrence, of course (like Mulligan last year), has already become the year's star-in-the-making story in "Winter's Bone."
Dovetailing with the performances themselves, there are also films that seem to reflect the theme in narrative. In "Secretariat," for instance, Diane Lane capably (if a bit histrionically) portrays headstrong Penny Chenery, a woman of virtue in an era when she was expected to keep her head down and clean house. Similarly, Sally Hawkins absolutely kills as the Norma Rae-ish Rita O'Grady in "Made in Dagenham," fighting for equal pay in a similar time (and she's likely to be joined in the hunt by co-star Miranda Richardson for a fiery supporting turn). And we can't forget the palpable feminism apparent in summer indie "The Kids Are All Right," where Annette Bening and Julianne Moore both bring their "A" game.
Segueing to the nine possible contenders from films I haven't yet seen, Hilary Swank keeps the theme going as a woman putting herself through law school to help her wrongfully accused brother get out of jail in "Conviction." Helen Mirren, meanwhile, tries on Shakespeare in Julie Taymor's "The Tempest," flipping the theatre's Prospero into Prospera.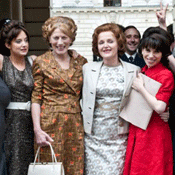 Then just generally speaking to round things out, Naomi Watts and Michelle Williams have been spotlighted for their work on the festival circuit so far in "Fair Game" and "Blue Valentine" respectively.  We're all waiting to see what Anne Hathaway and Angelina Jolie have to offer in "Love & Other Drugs" and "The Tourist." (We'll know more about the latter when the trailer launches Wednesday morning.)  And there are still fringe considerations that include Freida Pinto in Julian Schnabel's "Miral" (which, like Taymor's film, received a few jabs in Venice), Robin Wright Penn in the distributorless (for now) "The Conspirator," Gwyneth Paltrow in the familiar "Country Strong" and Emma Stone in the considerably lighter "Easy A" (which could just be an HFPA play along with Paltrow).
And there are still a handful of possibilities lingering beyond that, as well as some that I imagine may not even be on the radar quite yet.  But 18 examples is a deep enough field to state the obvious: this is the strongest lead actress race for years.  And that a feminine strength dynamic has carried over into the stories unfolding on screen makes all the more intriguing.
This was all nicely laid bare in Venice over the weekend where Sofia Coppola took down the Golden Lion for her latest film "Somewhere" and Helen Mirren had the following to say regarding her role in Taymor's debuting film:
Women have been punished for being in power, for being powerful for many centuries and I thought that was the remarkable thing about making Prospero into Prospera…You can bring in that history of female struggle, and certainly in Shakespeare's day and for many centuries before and after women of knowledge were punished for that knowledge…We can see now in the extreme fundamentalist states, whatever religion they are, that they want to exclude women from education…because an educated woman is a dangerous thing.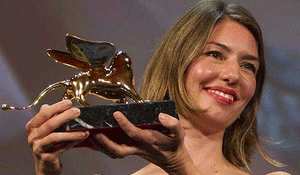 And a well-written female character is as powerful as ever on the big screen.  It'll be interesting to see how the class of 2010 represents this field.
On to the updates.  I was going to hold off on polishing up the predictions until later this afternoon, as I'm seeing a pair of films that may tip the scales this way or that.  (One of those films, by the way, will see web reviews hit throughout the day, and I can only hope, given the outlets planning to run, that it's not "Inception" all over again, leaving traditional media types sharpening their knives and irritated at the inevitable wave of praise.)  But I figured I'd just get everything off my plate sooner rather than later.  So I've run a comb through the Contenders section and once again updated the predictions.  Toronto will inevitably lead to more changes next week.
In the meantime, feel free to discuss the exceptionally strong year for female leads in the comments section below.
[Photos: Focus Features, Sony Pictures Classics, Associated Press]