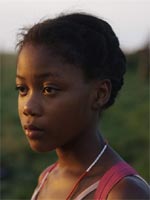 I lost track of the foreign-language Oscar submissions while I was away in Venice, so the entry of my own favored horse into the race seems like a good occasion to catch up. If you kept up with my Cannes coverage, you might remember that I made a slightly off-center prediction while reviewing the South African AIDS drama "Life, Above All" — that it would secure a Best Foreign Language Film nod next year, and could even be the film to beat for the Oscar.
I stand by that call, and it remains on track: South Africa, seeking its third nomination and second win in the category since 2004, has predictably submitted Oliver Schmitz's film to the Academy. (Thanks to Bianca Jacobsohn for notifying me.) The film recently had its North American premiere at the Toronto fest, where it seems to have been warmly received, and has already been adopted by Sony Pictures Classics — the studio that dominated last year's foreign-language race with three of the five nominees, including the eventual winner.
I maintain that the film's child's-eye focus and heart-tugging issue drama place it squarely in the Academy's wheelhouse — that it's also a strong film only helps matters.
Meanwhile, two more high-profile Cannes titles have also entered the race, including Thailand's avant-garde Palme d'Or winner "Uncle Boonmee Who Can Recall His Past Lives." I'm one of the few people not enthralled by Apichatpong Weerasethakul's slow-burn meditation on family, afterlife and monkey ghosts, but even if I were with the majority, I'd have a hard time imagining that voting branch warming to something this esoteric. It's a brave choice — the first time the Thai selectors have opted for a Weerasethakul title — but unless the Academy's executive committee really takes a shine to it and shoehorns it into the nine-film shortlist, I'd say it's a non-factor in the race.
Less acclaimed, but possibly more of a threat, is Algeria's entry, Rachid Bouchareb's "Outside the Law," an elegantly crafted, slightly speechy period political drama that I admired more than most critics on the Croisette. It's another unsurprising selection: the country has entered four of Bouchareb's previous films into the Oscar race, and got lucky last time round, as "Days of Glory" managed a nomination in 2006. The sturdy, old-fashioned storytelling of "Outside the Law" could well appeal to the same voters that came through for the director then.
Also new to the race since my last update are the following: Austria's "La Pivellina" (an Italian-language film, interestingly), Estonia's "The Temptation of St. Tony," Hungary's "Bibliothèque Pascal," Japan's "Confessions," The Netherlands's "Tirza," Peru's "Undertow," Poland's "All That I Love," Russia's "The Edge," South Korea's "A Barefoot Dream," Sweden's "Simple Simon" and Venezuela's "Hermano." Aside from the Peruvian entry, I'm unfamiliar with all these films, so feel free to chime in with any insights you may have.
Finally, it's worth noting that the South Korean entry rather surprisingly bested Lee Chang-dong's Cannes prizewinner "Poetry," which I thought might have found fans among the Academy's older voters. There are no safe calls in this game.
By my count (and I could well be missing a few), that brings the number of submissions up to 17, with many more to come before the October deadline. We'll have a separate page listing the contenders soon.
[Photo: Sony Pictures Classics]