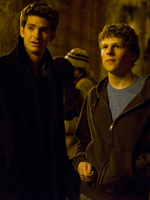 The best films are rarely about just one thing, but rather that one thing as reflected through a variety of narrative prisms.  And there is something to be said about a film that manages to distill an era while profoundly conveying a character study within.
David Fincher's "The Social Network" may be the quintessential story of young Machiavellian entrepreneurship in an age of streamlined communication, but it is also a story of the social disconnect that can be as galvanizing as any other source of ambition…for better or worse.  The Mark Zuckerberg of Fincher's film uses the sting of that disconnect to spark a fire of creativity, and the film very much concerns itself with the gauntlet of his motivation.  (The New Yorker's profile, culled from rare extensive interviews with the 26-year-old billionaire, is a wonderful primer for the dramatization.)
In some sense, the film could be viewed as a distant cousin of Darren Aronofsky's "Black Swan," both presenting protagonists flawed by their own aggressive drive.  But while Nina is a tragic figure of self-destruction, Zuckerberg is a tragic figure of self-alienation.
The veracity of the events depicted might be in question, but the portrait is actually somewhat flattering of Zuckerberg.  One can't help but respect his shrewdness in the jungle of "business is business," until the line is crossed.  And in that moment the film becomes something else entirely, a cold, stirring reflection of psychological frailty at its honest, authentic worst.
Andrew Garfield breathes captivating life into this scene and every emotional beat leading up to it.  He is, for so many reasons, the stand out of a perfectly cast ensemble at every step.  Justin Timberlake, meanwhile, as Napster founder and Facebook advising creator Sean Parker, also excels with a performance of energy and charisma.  Given the obvious music industry ties, it might seem like merely brilliant stunt casting, but Timberlake adds a palpable edge.
And then there is Jesse Eisenberg, whose anchored, skilfully navigated portrayal of an incredibly complex individual will hopefully not be a thankless contribution to the fall movie season.
Fincher and cinematographer Jeff Cronenweth shot the film digitally and directly to memory cards — no film, no tapes, no hard drives.  It's a brave new world for the technology and this effort couldn't look any more gorgeous, light kissing the dark, crisp imagery in just the right places throughout.  Moreover, the chilly nature of the tale (and Fincher's propensity to that kind of material) lends itself nicely to the cool hues.  The structure of the film, meanwhile, presents an opportunity for dazzling editing from Angus Wall and Kirk Baxter, and the unconventional score from Trent Reznor and Atticus Ross is a mesmerizing treat that sucks you right into the narrative.
But the biggest star of the show should stand up and take a bow.
Aaron Sorkin's way with words has gone unnoticed by the Academy to date.  The man hasn't even received a nomination.  But for this, he deserves the statue itself.  The dialog, as one would expect, crackles and pops, but beneath that Sorkin trademark is the strong thematic pulse of a very human story.
And if I haven't mentioned Fincher it's because this film is more free of his signature than any in his career.  That's not to say there is an anonymous quality to the helming, but Fincher smartly lets his tonal sensibilities step in for his penchant for stylistic flourishes.
I think it may be reaching for grandiose sentiments to say "The Social Network" is a film that "defines a generation."  However, I will say this: it is the most culturally relevant film Scott Rudin has produced since 1998's "The Truman Show." But while that film was a potent forecast of where we were heading as an entertainment-hungry society, this one is no less significant for its depiction of the here and now.
(I honestly didn't mean to write this much but, alas, it is a film of ideas that inspires as much.)
[Photo: Columbia Pictures]