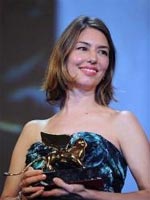 (Updated list of Venice award winners here.)
If you were on the Lido to the bitter end of the festival — and closing with "The Tempest" made it a very bitter end indeed — last night's Golden Lion win for Sofia Coppola's "Somewhere" didn't come as the shock it did to everyone else. In the closing days of the festival, a Chinese-whispers style rumor started circulating that Quentin Tarantino and many of his fellow jurors were besotted with the film from the get-go; at Friday night's party for Tom Tykwer's "Drei," word that Coppola had been asked to stay in town for the awards ceremony spread fast. (I tweeted as much — don't say I left you out of the loop.)
But even if some of us got wind of it earlier than others, the news was still surprising when it landed. On the one hand, Venice has long been more receptive to more mainstream arthouse names than Cannes or Berlin — recent winners of the top prize include Darren Aronofsky, Ang Lee (twice) and Mike Leigh. On the other, "Somewhere," which screened on the festival's third day, didn't seem to have much staying power in the critical mindset: I appreciated the film more than most, but the general consensus was that it was a likeable marking-time effort that seemed more likely to be recognized for Stephen Dorff's breakout performance than the filmmaking itself.
I'm content with its victory — festival juries can be so wilful that a good, if not necessarily great, film winning is generally enough to placate me — but if I were in Tarantino's shoes, I'd have a hard time justifying the decision amid an especially strong Competition lineup: films like "Post Mortem," "Black Swan" and "Meek's Cutoff" all took bolder formal risks, with harder emotional impact, than "Somewhere," and at least one of them deserved to be recognized for the effort. (Darren Aronofsky and Kelly Reichardt's films will be fine, of course, but the jury's shutout of "Post Mortem" is pretty crushing for a critically beloved but hard-sell Chilean title that could have used the profile boost an award would bring.)
But I'm not Tarantino, and in case that wasn't obvious enough already, some of the jury's frankly ludicrous choices in other categories sure underline the point. Part of the reason I'm happy with "Somewhere" as our champ is that the rest of the awards suggest we were perilously close to a truly horrific outcome: the unusual (and unnecessary) awarding of both Best Director and Best Screenplay to Alex de la Iglesia's astonishingly inept killer-clown saga "A Sad Trumpet Ballad" — hands down the worst thing I saw on the Lido this year — suggests the film had feisty support within the jury.
It's a misconception, by the way, that the reported "unanimous" selection of Coppola's film necessarily means it was every juror's first choice: as I recall from reading critic Alexander Walker's account of his Cannes jury experience that "unanimous" can often translate as "without protest." My guess is that the one-two of major awards for the Iglesias film points to a split of sorts. Whatever the reasoning, the result is something I'd prefer to forget as quickly as possible: while I can see how Iglesias's assaultive rag-bag approach might strike some as distinctive direction, Best Screenplay is a particularly perverse prize to hand a film that dispenses with any connecting tissue between its set pieces in the second act. (In case you think it's just me, Jay Weissberg's Variety pan nails the film's failings far more specifically than I had the energy to manage.)
"A Sad Trumpet Ballad" wasn't the only film to impress Team Tarantino enough to warrant a pair of awards: Jerzy Skolimowski's vapid but technically impressive political thriller "Essential Killing" clearly had some impassioned advocates on the jury too, taking not only the bronze-equivalent Special Jury Prize but also Best Actor for Vincent Gallo's wordless stunt performance. The latter award is one I predicted (not with any great enthusiasm, mind) the moment the credits started rolling on the film: as well as it being the kind of showily "brave" work that festival juries often fall for, it always seemed likely Gallo would get some kind of pat on the back for bringing two features (plus a short) to Venice this year.
Even if I didn't find the two multi-awarded films so negligible, the jury's reluctance to spread the wealth would be  irksome, creating as it does the impression of a shallow pool of options in a year that could hardly have been richer. Aleksei Fedorchenko's "Silent Souls" was arguably the most agreed-upon critical favourite of the fest (it duly nabbed the FIPRESCI Award), but had to be content with a technical prize for its admittedly staggering lensing — perhaps the jury's soundest call.
I'm also delighted with their off-the-radar Best Actress pick: internet commenters whining about Natalie Portman's loss (newsflash: non-stars can act too) might change their tune if they saw first-time actress Ariane Labed's terse, moving performance in Greek entry "Attenberg," a close runner-up to Catherine Deneuve in my personal awards list.
I don't think anyone would have bet on Mila Kunis emerging as the lone awardee for "Black Swan," but her Best Young Actor win was perhaps yesterday's most pleasant surprise: as I suggested in my review, her sly is-she-or-isn't-she antagonist turn might be the film's smartest, and it's nice to see the conversation expanding beyond Natalie Portman's justly acclaimed work in the lead. (Those trying to paint this result as some kind of slight on Portman are ill-informed: the Marcello Mastroianni Award is one specifically for new or breakout performers. Incidentally, two years ago, the same award went to a young lady named Jennifer Lawrence. I wonder what became of her?)
It should be said, however, that when you're on the ground at a festival, awards really come as an afterthought: I've had such a terrific 11 days, during which time I've been impressed and affected by so many films, that it's hard to see the jury's choices as a reflection of anything other than another person's subjective festival experience. My favourite film of 2009, Claire Denis's "White Material," came away empty-handed from the Lido 12 months ago, but hasn't suffered  for it; similarly, no lack of trophies is going to dislodge a title like "Meek's Cutoff" from critics' (and my) affections.
The discussion at this point will probably center of whether "Somewhere"'s unexpected coup can propel it into the awards race on the other side of the ocean — but it's wise to bear in mind that for every "Brokeback Mountain" that rides its Golden Lion all the way to Oscar night, there's a "Michael Collins" that never quite takes flight. That doesn't make the prize any less meaningful, and in the light of some of the more unkind jabs at her in recent years, it's nice to see Sofia Coppola validated as the serious filmmaker she is. As with most things in Venice, it's best not to think about the specifics too much — but to have another glass of Prosecco and enjoy the view. It's been a lovely one.
[Photo: AFP]