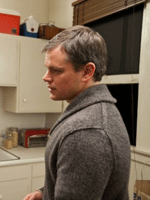 Yesterday's knee-jerk reactions to Clint Eastwood's "Hereafter" fell in the overwhelming negative following an afternoon press screening.  At the time, I noted that festival quick takes should be taken in context and that perhaps more measured responses could tell another tale.
Well, the embargo lifted roughly 45 minutes ago.  Variety's Justin Chang has fired off a mostly positive assessment that admits the film's triptych of stories comes together "creakily" and that the film is "uneven," but he seems to be willing to cut the filmmaker a little slack by appreciating the lax approach conveying the narrative.  The film is "a beguiling blend of the audacious and the familiar," he writes, "but is armored against risibility by its deep pockets of emotion, sly humor and matter-of-fact approach to the fantastical."
Screen Daily's Mark Adams, meanwhile, calls the film "a bold change of pace" for Eastwood, praising him for not "resort[ing] to any clever editing to tell the three parallel stories…those interested in a shrewdly made and well-scripted drama about loss and compassion will be intrigued and impressed."
At The Hollywood Reporter, Kirk Honeycutt compares the film to Claude Leloche cinema, writing that it "never is less than intriguing, right from its tour de force opening sequence, and often full of insights into why people long for answers, sometimes with great urgency" and "will give audiences something to debate on the way home."  He nevertheless found the ending to be a "facile" letdown.
I think it's worth pointing out that I don't remember the last time the trades gave a negative review to an Eastwood film.  He's cultivated a certain appreciation over the years on those pages.
Anyway, it's not all peaches and cream.  MSN's James Rocchi walked out of the screening in apparent disgust, Tweeting that the film was "shabby, cliche, manipulative Stuff White Oscar Voters Like. Million Dollar Baby-level trash."
/Film's Peter Sciretta, meanwhile, whose Tweeted response was quoted in yesterday's round-up, says "the story doesn't really go anywhere" and that "when it actually does have some forward momentum, it ends up in a place that trumps logic and we're asked to believe that it was all a matter of fate (or something)."
I think the bottom line here seems to be that even among the appreciators, Peter Morgan's script may come together in a rather unsatisfying manner in the third act.  But words like "facile," "cliche" and "manipulative" describe many, many former Oscar nominees and winners, so we should keep an eye on it.  To be perfectly honest, it sounds like a contender now more than ever.
[Photo: Warner Bros. Pictures]