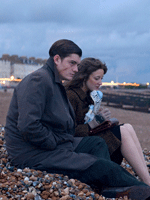 At Toronto today, a hand handful of distribution-seeking films hit and one potential cult favorite found a home.  Let's dig in…
One film looking for a distributor that we've had an eye on as a potential awards play for supporting actress Andrea Riseborough is Rowan Joffe's Graham Green's  "Brighton Rock." But The Hollywood Reporter's Ray Bennett largely criticizes a "bloated score" that he says "overwhelms" the narrative.  But he had nice things to say about Riseborough by noting that she "adds to the film's appeal."  (See a new clip from the film after the jump.)
The Jennifer Connelly-starrer "What's Wrong with Virginia," from "Milk" writer (and Oscar-winner) Dustin Lance Black, also screened.  Jeffrey Wells "didn't give a damn about the angry rurals in Black's world" and walked out of the screening.  The Film Stage's Jordan Raup, meanwhile, called it "Solondz-lite," and despite good things to say about Connelly's performance, said the film "didn't really come together."  And Salon's Andrew O'Hehir found it to be an unstable mix of "American Beauty" and "Blue Velvet."
And in the acquisitions department, James Gunn's "Super" (which was well received at a midnight screening Friday night) has been picked up by IFC Films for its IFC Midnight banner.
Meanwhile, the "127 Hours" public premiere was reportedly greeted with a massive standing ovation.  Watch out.
Still to come, the official review embargo will lift on Clint Eastwood's "Hereafter" at around midnight, following the 9:00pm public screening.  We'll know then whether the slew of negative knee-jerk reactions was on the money or if the film settles differently with others.