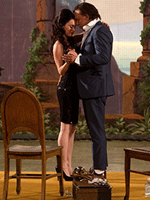 Moving along at Toronto, it seems Mitch Glazer's "Passion Play," which was as much for the director since he spent 20 years trying to get it made, was hung right out to dry and that Mickey Rourke can be knocked off of anyone's list of awards hopefuls.
David Poland calls the film "epically bad" and even suggests that the potential for a Megan Fox nude scene was probably the only thing keeping people from walking out.  Cinematical and eFilmCritic's Erik Childress did just that, however.  He couldn't take it.  Meanwhile, at Voice Film, Karina Longworth says "it's hard to imagine that anyone will take [the film] nearly as seriously as it takes itself."  What can you say?  It's never a happy moment when someone works so hard at something so quickly and summarily dismissed.
On the other end of the spectrum, Danny Boyle's "127 Hours, continues to be welcomed with open arms.  Filmmaker Magazine called it "typically bravura filmmaking from Boyle. Both a celebration and a critique of solitude."  MTV's Josh Horowitz says it's "an emotional wallop," the LA Times' Steven Zeitchik thinks it "elevated far above [a] typical rescue story by Boyle's eye for detail and strategically deployed flash" and The Playlist's Kevin Jagernath calls it "one of the best films of the year."
Most public reactions, in fact, were in the overwhelming positive.  That's good news since outright crisis was barely averted when Boyle reportedly had to step in and ease the tension and ire of entitled critics when technical difficulties delayed last night's screening.
Elsewhere, Justin Chang reviewed "Made in Dagenhem" for Variety, and seemed to take umbrage with the "predictability" of the film.  Maybe it should have, what, depicted a LOSS for women's rights?  I kid.  Anyway, he had nice things to say about Sally Hawkins's performance (which I spotlighted earlier this afternoon), writing that she makes her character "an irresistible fount of inner strength and no-bull common sense, and her ability to seem surprised by her own outspokenness lends the picture a shot of much-needed spontaneity."
Also, I had a hunch in one of the recent Oscar Talk podcasts that Emilio Estevez's "The Way" could be an intriguing prospect.  Scott Feinberg liked what he saw, particularly as it pertains to Martin Sheen's performance.  He writes, "Moviegoers always root for Sheen, who oozes decency and integrity, but they did so even more than usual during this film because of all that his character quietly endures out of a love for his son."  Estevez also got a nice write-up at Deadline.  We'll see if the film can land distribution, but it could be an instance like "Lovely Still," which played the fest two years ago, got great notices for Martin Landau and Ellen Burstyn, then quietly opened on a few screens yesterday.
I imagine any moment now reactions to Robert Redford's "The Conspirator" will begin filtering out.  Tomorrow, reviews for "Conviction" (which, word has it, received a standing ovation today) and "Hereafter" (much later) should come fast and furious.  Swank talked to the Canadian Press about the former, saying that making the film "changed her life."  "Barney's Version" will also get a few more looks to help reveal its awards potential.
More as it comes…
[Photo: Annapurna Productions]