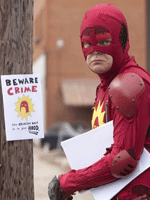 Things are slow moving at the start of this year's fest.  People are catching up with press screenings of this and that, some of them Venice or Telluride or Cannes, with a few Toronto first-timers thrown in.
Firstly, Scott Weinberg joins the dogpile on Anna Boden and Ryan Fleck's "It's Kind of a Funny Story" by calling the film "outrageously bad" and noting that its ilk is "best left for the festival circuit — which is where we suffer through the indie-style artifice so you don't have to."
The market is in full swing, particularly around James Gunn's "Super," which screened late last night and stirred a lot of interest.  Movieline called the Rainn Wilson starrer an "instant cult classic."  Buyers are also reportedly showing interest in Rowan Joffe's "Brighton Rock" (as I imagined they would), so maybe we'll see Andrea Riseborough popped up once again in that vacant supporting actress category shortly.
Speaking of films looking for buyers, Patrick Goldstein apparently saw Robert Redford's "The Conspirator" in LA recently and draws parallels to another nation-shattering event (celebrating its ninth anniversary today) and the atmosphere it created.  He also notes that "it is definitely a sign of the times that this Hollywood icon, who once had studios at his beck and call, is now feeling the need to beat the drums to get some attention for his new film," which recalls recent discussion regarding Peter Weir's latest.  Redford's film screens today so watch for reactions.
In the way of festival catch-up, Tom Hooper's "The King's Speech" screened publicly last night and The Odds' Steve Pond was there.  "Big, big love for [the film] at #TIFF gala tonight," he Tweeted.  "This is one serious Oscar movie, folks."  Yep.  Kim Voynar, meanwhile, saw and loved Sylvain Chomet's "The Illusionist" and found it to be "a beautifully drawn work of art by one artist bringing to life the work of another" and "an altogether stunningly lovely, charming, touching and soulful film."
Oh, and Jeffrey Wells tripped over himself to praise Darren Aronofsky's "Black Swan," writing to the director that the film is "manic psychological realism. All about going mad from a desperate need for creative perfection and mastery of craft."  He also says the film is "cinched a Best Picture nomination," which is overstepping a bit, I'd say.
That's all for this morning.  Tony Goldwyn's "Conviction" will be screening shortly, so expect reviews to continue trickling in after that.  "Made in Dagenham" will also be screening this evening.  I'll publish some thoughts on that film, which I saw last week (and discussed briefly with Anne in Friday's podcast), some time this afternoon.
[Photo: This Is That Productions/Ambush Entertainment]