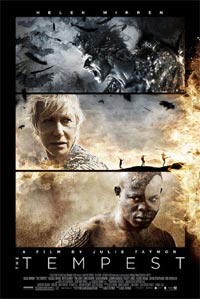 Venice Film Festival
If any one title in the Shakespeare library has been sufficiently fiddled about with on screen, it's "The Tempest," among the most tonally malleable of his comedies, and a fantasy that gifts filmmakers with obvious opportunities for spectacle.
"Forbidden Planet," a terrific 1956 sci-fi riff on the play, perhaps took this adaptability furthest, but it only set the ball rolling for assorted free interpretations: Derek Jarman gave it a homoerotic spin in 1979, Paul Mazursky rewrote it as a neurotic modern-day sex comedy in 1982 and Peter Greenaway played all manner of metatextual games in 1991's "Prospero's Books." At this point, about the most radical thing a filmmaker could do with "The Tempest" on screen is play it straight.
That is evidently not a view shared by one Julie Taymor, whose murky, lunk-headed and signally boring new film tricks out Shakespeare's text with gaudy CGI saturation, a wardrobe from "Zoolander"'s Derelicte collection and a key sex change in the lead, as sorcerer and doting father Prospero here morphs into Helen Mirren's Prospera, a highbrow voodoo priestess of sorts with a permanent Patty Hewes-style scowl.
On paper, the gender switch sounds at least notionally interesting. Shakespeare's play hinges so heavily on the theme of paternal love — as Prospero, former Duke of Milan, guards the virginity of his teenaged daughter Miranda, with whom he has been banished to a mostly unpeopled island by his usurping brother Antonio — that such a change promises a hefty restructuring of the text's sexual politics: two women, a fiercely protective single mother and her daughter, being disempowered by a male relative is a story very different from the one told by The Bard, in or out of an imaginary dimension.
Taymor, however, doesn't probe this potentially contemporary angle; nor, despite casting Djimon Hounsou (yet again on semi-noble savage duty, though the character is rendered more a figure of fun in Taymor's reading than in others) as Caliban, does she go down the post-colonial path of interpretation that many have taken with the play in recent decades. There is, in fact, no interpretation here whatsoever: Taymor's redreaming is limited to surface-level visual dressing of a vanilla community theater-style performance. This would be fine — Baz Luhrmann's hopped-up "Romeo + Juliet" didn't have much to say about its source material either — if the performance itself was a little more committed, and if Taymor's aesthetic innovations weren't so uniformly trite.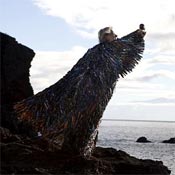 Taymor may have long been described (and indulged) as a primarily visual artist of stage and screen — her three previous films layering stylized technique upon stylized technique to arresting but often suffocating effect — but "The Tempest" is the first of her films that could be described as drab, or even ugly.
Shot in muddy teal tones by an under-tested Stuart Dryburgh, the film locates the action almost entirely on a bleak exterior landscape of dun-colored rock (usually brilliant production designer Mark Friedberg takes an idle paycheck here) that is essentially the cinematic equivalent of a black box stage — as Taymor revels in glum silhouettes of isolated figures on this harsh terrain, the film gradually takes on the appearance of a Depeche Mode video, and not one of their better ones.
The minimalism of the locale, however, is countered by Taymor's oppressive reliance on synthetic-looking digital effects, beginning with a cacophonous storm sequence (which finds Shakespeare's words entirely buried in the sloppy sound mix) and employed most heavily in the characterization of Prospera's enslaved spirit Ariel, inhabited by Ben Whishaw as a transparent shapeshifter whose assortment of visually elaborate entrances and exits quickly grows distracting. This CGI canvas would be tawdry even if it weren't so carelessly executed, but when certain scenes can't be bothered to match character eyelines, Taymor's busy technical ideas become a dramatic debit too.
Amid filmmaking that manages the not-inconsiderable feat of being simultaneously chaotic and dull (even Elliot Goldenthal's 1980s prog-style score is off-target), the distinguished cast becomes merely another element in the mix. Mirren musters appropriate sound and fury in the lead, but can't locate unfamiliar nuances or inflections in Prospero's most renowned speeches. Hounsou is typically imposing, but overacts as if trying to be heard above Taymor's direction, while Whishaw and relative newcomer Reeve Carney duke it out limply for "most insipid" honors.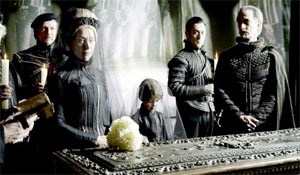 The only performer who does make an impression — and not a particularly felicitous one — is Russell Brand, ostensibly playing drunken jester Trinculo but really playing Russell Brand playing drunken jester Trinculo, his trademark dissolute-dandy mannerisms given free rein by his evidently amused helmer.
Taymor has long been a problematic talent, but even the most out-of-control passages of "Across the Universe" and "Frida" demonstrated a naïve, wild-eyed devotion to her material that simply isn't in evidence here. "The Tempest" treats Shakespeare's writing as little more than a vessel for unmoored visual concepts that brook no further discussion of the play — something that her 1999 debut "Titus," a far gutsier stab at a less overexposed work by the Bard, did invite. This flabby, empty pageant will likely enjoy a long life in high school classrooms, as desperate English teachers stick it on in the hope of making the play seem more hip to their unmoved students, but they'd be serving the kids — and Shakespeare — better if they dug up a copy of "Forbidden Planet" instead.
[Photos: Touchstone Pictures]