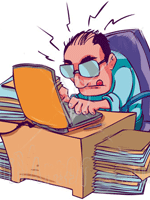 With the fall festival season and all it's expected "prestige" product going before many sets of critical eyes over the next two months, I think it would be smart to heed Danny Leigh's words at The Guardian, who warns, "Never let me go overboard."
The problem with the Oscar season is that it can be a rush to dismantle or anoint, and the greatest offenders are already sharpening their knives or fluffing pillows for a soft landing.  All I can ever do is be honest about what I think about a film and give early thoughts on awards potential (something that is always in flux, mind you).  But sure, the freshness of an unexpected doosey or an overwhelming positive experience can tip the balance of coverage at these fests.
Peter Sciretta recently wrote about the issue of reviewing at festivals and I agree with much of what he said.  It's why I prefer the more relaxed weekend of Telluride to the marathon of something like Toronto.  But Leigh hits it right on the mark.  He drags out David Poland's already battered "masterpiece" review of Mark Romanek's "Never Let Me Go" and uses it as a case study in "too much" when it comes to praise.
Writes Leigh:
A fully-fledged clunker is, of course, easy to call, but between the rush of gratitude at stumbling on something half decent and the professional urge to get busy with the hyperbole, few among us are immune from misjudging the line between greatness and the plain above-average.

That's why I think if you're ever tempted to mention the word masterpiece, the best advice is to head home, have a long nap and see how it all looks in the morning. Live with it a little. And that logic goes double when it comes to soothsaying about the likely tastes of cinephiles in 2030. If all films are best served by a bit of room in which to ruminate and reflect, reserving for a movie iconic status 20 years from now is a judgment call best left for – well, shall we say 20 years from now?  If movie history teaches us anything, it's that the films which are greeted as immediate classics in the here and now are often found wanting later on.
You are your own judge when it comes to how much you'd like to take this review or that to heart, of course.  No one is telling you what to think so don't get defensive if someone has the gall to take down a film you're looking forward to.  Equally, keep your giddiness in check when a screening seems to be met by euphoria (I'm obviously not excluding anything I've written, here).  These festivals can make it difficult to really clear the mind for a level review playing field.  After all, revisionism can set in just a month later in some cases.
Just something to keep in the back of your mind as Venice, Toronto, New York and London roll out.  Check out the rest of Leigh's piece at The Guardian.