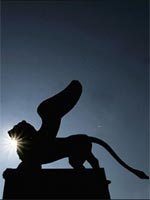 The Venice Competition lineup officially wrapped today with one of its lightest and most mainstream selections, "Barney's Version" (reviewed this morning).
With only the out-of-competition closing film "The Tempest" left to screen before I head back to London tomorrow evening, allow me a moment to sift through the runners and riders for the festival prizes – at the same time as Quentin Tarantino and his (hopefully) merry band of jurors much be contemplating the same thing.
They have good reason to be merry: as a friend and I agreed this morning, festival director Marco Mueller has assembled a truly outstanding Competition field this year – thoughtfully balanced in terms of highbrow and middlebrow, genre and esoterica, veteran auteurs and younger ascending talents.
(More thoughts, plus Golden Lion predictions and wishes, after the cut.)
While this year's lackluster Cannes selection featured too many dry, sub-par works from oft-tapped filmmakers, Venice took bolder steps, admitting previously bubbling-under talents like Kelly Reichardt and Pablo Larrain into the big boys' club, and broadening the genre palette to include a wild samurai epic, a high-camp comedy and, well, whatever the hell "A Sad Trumpet Ballad" was. All that, and they bucked festival convention by picking a knockout opening film. What more can you ask for?
Needless to say, as with any festival, the 24-film selection still featured its fair share of stinkers: we found out why Cannes organizers allegedly turned down "Miral" (though they also apparently rejected "Meek's Cutoff" in favour of "Fair Game," so let's not congratulate them too heartily), and the regular four-film quota of Italian entries was a total bust this year. Still, even unmitigated bombs like the aforementioned "Ballad" and Monte Hellman's shoddy Lynch-lite puzzler "Road to Nowhere" were eccentric enough to garner adherents: consensus failures have been few this year.
All of which makes predicting tomorrow's awards – always a fool's errand in any festival – especially difficult: with the standard so high, critical favor hasn't lined up behind any one contender, but remains fairly scattered. (Not that critical consensus means anything to festival juries, as last year's broadly acclaimed but wholly unawarded Venice favourite "Lourdes" can tell you.)
Among English-speaking press, at least, affection seems to be mostly split between Aleksei Fedorchenko's "Silent Souls," Pablo Larrain's "Post Mortem," Kelly Reichardt's "Meek's Cutoff" and Athina Rachel Tsangari's "Attenberg," with "Black Swan" still retaining much of its early heat – and any one of those would be a highly credible Golden Lion champ. "Black Venus," generally deemed (sight unseen) the film to beat at the start of the festival, has proved a more polarizing proposition than expected, but that can often work in a film's favor at festivals.
I can imagine any combination of the above films taking the top awards, and things don't clear up further down the list either. As was the case at Cannes, the Best Actress competition looks particularly feisty, with acclaimed "Venus" newcomer Yahima Torres facing off against starrier competition from the likes of Natalie Portman, Catherine Deneuve and Michelle Williams. Best Actor, by contrast, presents a leaner slate of options, but while this morning's very warm reception for Paul Giamatti suggests he's the one to beat, I'm sticking to my crackpot theory that Tarantino will tempt controversy by rewarding Vincent Gallo for his onscreen ubiquity at the Lido this year. I hope I'm wrong.
So, let's call this thing. My dream outcome is listed first, with my highly uncertain predictions following.
SHOULD WIN
Golden Lion: "Meek's Cutoff"
Silver Lion (Best Director): Pablo Larrain, "Post Mortem"
Special Jury Prize: "Black Swan"
Best Actor: Alfredo Castro, "Post Mortem"
Best Actress: Catherine Deneuve, "Potiche"
Best Screenplay: Athina Rachel Tsangari, "Attenberg"
Technical Prize: Christopher Blauvelt, "Meek's Cutoff"
WILL WIN
Golden Lion: "Silent Souls"
(Alternates: "Post Mortem," "Meek's Cutoff," "Black Venus")
Silver Lion (Best Director): Pablo Larrain, "Post Mortem"
(Alternates: Aleksei Fedorchenko, "Silent Souls," Kelly Reichardt, "Meek's Cutoff," Takashi Miike, "13 Assassins")
Special Jury Prize: "Attenberg"
(Alternates: "Silent Souls," "Post Mortem," "Meek's Cutoff")
Best Actor: Vincent Gallo, "Essential Killing"
(Alternates: Paul Giamatti, "Barney's Version," Alfredo Castro, "Post Mortem," Ascanio Celestini, "The Black Sheep")
Best Actress: Yahima Torres, "Black Venus"
(Alternates: Michelle Williams, "Meek's Cutoff," Catherine Deneuve, "Potiche," Natalie Portman, "Black Swan")
Best Screenplay: Michael Konyves, "Barney's Version"
(Alternates: "Silent Souls," "Potiche," "The Black Sheep")
Technical Prize: Mark Lee, "Norwegian Wood"
(Alternates: "Meek's Cutoff," "A Sad Trumpet Ballad," "Black Swan")