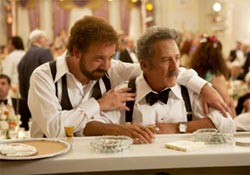 Venice Film Festival
Too few film reviews open with the wisdom of Feargal Sharkey, so it brings me great pleasure to begin this one by saying that a good heart these days is, indeed, hard to find. That's the chief conclusion to be taken from not just the narrative but the execution of "Barney's Version," a measured, thoughtful and agreeably down-the-middle adult romance that makes up in mature sincerity for what it lacks in style.
I am, I admit, unfamiliar with the popular 1997 novel by Mordecai Richler from which Canadian TV director Richard J. Lewis's film is adapted; it is, by all accounts, a dense, inventive and stingingly satirical work that has been substantially pared back and ironed out for the screen. This is not surprising: even without knowledge of the material, it's easy to see where corners have been either cut or sanded smooth in the adaptation of a decades-spanning life study.
Charting the fortunes and (mostly) misfortunes of Paul Giamatti's eponymous anti-hero, principally his three failed marriages, Lewis and novice screenwriter Michael Konyves have fashioned a busy, baggy flashback structure that races through some key plot points as it leaves others dangling, and never makes good on its literary opening gambit to tell the story as Barney's autobiography.
But if the construction is awkward, the film's balancing of tones is surprisingly deft; what begins as a raucously funny rom-com for the "Sideways" set gradually segues into a more melancholy study of what it takes to make relationships work, in or out of marriage, before the third act slides effectively into unisex weepie territory. It's a film that unabashedly embraces its own sentimentality — though I do wish Pasquale Catalono's over-reactive score weren't included in the group hug — but the writing, whether by Konyves's hand or filched from the novel, is keen and funny enough to support the emotional weight. "It's like forcing an avocado through a cheese-grater," Barney's father observes of divorce in a heart-to-heart with his son. "You end up with a handful of shit."
This kind of dialogue is seized upon by the film's almost entirely game ensemble, anchored by Giamatti's wry, limber performance, the most engaging portrait yet in his gallery of ungainly middle-aged schlubs. Pleasingly tender and retiring where you expect him to gorge on neurotic kvetching, he could well find himself rewarded by the Venice jury — and might offer the film's newly acquired distributor Sony Pictures Classics a credible Oscar prospect. (At the very least, a Golden Globe comedy nod should come with gift-wrapped ease.)
Matching Giamatti's warmth and subtlety is Rosamund Pike, locating bruised human notes in the potentially under-developed role of Barney's third and most loyal wife. In a broader but no less valued register, Dustin Hoffman provides knockout comic relief as the aforementioned dad, as does Minnie Driver as an earlier and deliciously awful spouse. (She gifts the film with possibly its finest line reading, describing her honeymoon travels over the phone: "Yeah, we went to the Vatican… eh, it's old.")
A soft lob to older middlebrow audiences, then, "Barney's Version" is still tarter and more truthful in its examination of the compromises and occasional failures that come with lifelong partnership than its bland outward trappings would suggest; it may or may not be a fudged adaptation opportunity, but if the thunderous applause that followed this morning's press screening is anything to go by, there are still a lot of filmgoers who subscribe to the old maxim (this one unconnected to a 1980s one-hit wonder, I'm afraid) that it's nice to be important, but it's more important to be nice.
[Photo: Sony Pictures Classics]