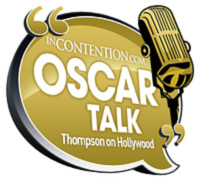 Welcome to Oscar Talk.
In case you're new to the site and/or the podcast, Oscar Talk is a weekly kudocast, a one-stop awards chat shop between yours truly and Anne Thompson of Thompson on Hollywood. The podcast is weekly, every Friday throughout the season, charting the ups and downs of contenders along the way. Plenty of things change on route to Oscar's stage and we're here to address it all as it unfolds.
Today Anne is calling from Toronto after a long journey from the Venice film festival, while I'm back home in LA following a great Telluride fest last weekend. We're both able to talk from a more informed perspective on a number of the season's hotly anticipated films, so let's see what's on the docket today…
• Anne wraps up her Venice experience while I recount favorites from Telluride, including Sony Classics' "Another Year," which we're split on for Best Picture chances.
• Another film we both love but equally agree will have a tough road for Best Picture in "Black Swan." We discuss notions of the film potentially turning off older women and perhaps only being a play for Natalie Portman.
• Sticking with Fox Searchlight, we talk about the reaction to Mark Romanek's "Never Let Me Go" so far (see SPOILER warning below) and how much of a foothold it could maintain throughout the season. Or will "127 Hours" rise up as the studio's best bet?
• Again, Searchlight is busy this fall. The studio just picked up Terrence Malick's "The Tree of Life" yesterday. Could it still hit at Sundance as Anne suggested a few weeks ago? Will it really hold off until Cannes? One thing is certain, it's out of the 2010 race.
• The situation with Peter Weir's "The Way Back" seems to raise the question of what will happen to filmmakers like him in this most conservative climate, not to mention any number of films looking for distribution at these festivals that might have already secured a home in the past.
• The Toronto film fest took its first steps yesterday so, with Anne in the middle of things, she charts the differences between these three very different festivals and discusses what she's looking forward to at TIFF.
Have a listen to the new podcast below, leading off with the original song "Never Let Me Go" from Romanek's film. And PLEASE NOTE: there are SPOILERS of that film starting around the 10:00 mark and lasting roughly three minutes. Tread lightly if you want to know nothing about the narrative.
And as always, remember to subscribe to Oscar Talk via iTunes here.
[display_podcast]