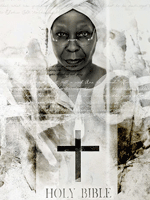 We've been wondering for a couple of weeks now whether an unexpected contender could hop into this year's race.  Last week Lionsgate announced a November 5 release date Tyler Perry's "For Colored Girls" (the title of which had been officially shortened in the release from the original play's "For Colored Girls Who Have Considered Suicide When the Rainbow is Enuf").  Anne and I discussed the film as an awards possibility in Friday's podcast.  And this week it looks like everyone's catching up to the left-field idea.
Scott Mendelsen used the occasion for Oscar pondering at The Huffington Post.  Sasha Stone picked that up and offered her own thoughts yesterday.  Meanwhile, no one really knows for sure what we're dealing with here.  It could be a legitimate awards contender or it could just be a respectful push on behalf of a filmmaker that has made a lot of money for the studio.
One thing is certain: there is a slew of prime female parts in the material for the role call of actresses involved to sink their teeth into.  That has been handsomely reflected in a recently released group of eight posters for the film.  Check them out at Yahoo! Movies.
[Photo: Lionsgate]