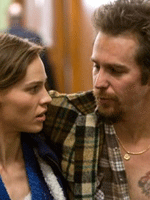 I had hoped Fox Searchlight would screen Tony Goldwyn's "Conviction" here in LA during Toronto, but I guess I kind of understand why they didn't.  I've heard nothing but "meh" things on the film since day one (the first reaction I heard was from someone who saw it before the studio even picked it up).  That ambivalence is reflected in Brad Brevet's C+ review of the film out of Toronto.
Brevet calls it "a rather simple film" and notes that "the emotional impact of the story comes through in the end after what is a rather mundane and cliched story of the innocent man in jail and the person working hard on the outside to get him out."  Well, I guess I could have gleaned that from a synopsis.  Dig, Brad!  Oh, here we go:  "At no point does this seem like new territory, but outside of being about ten minutes too long, it's a film that works despite its rather traditional dramatic nature."
Wouldn't "traditional" be a guarantee that the story would work?  In any case, I'm just having fun here.  Most I've talked to seem to think Sam Rockwell could charge to the front of the supporting actor derby.  Brevet writes that the actor plays the character "with enough eccentricity to make it believable, but never so much that it feels like a caricature trying to be larger than the scene."
At Hollywood News, Sean O'Connell notes that "you know exactly what you are going to get from [the] film before you even step foot in the theater" and that "the picture is going through the motions."  He says "what you see in the official synopsis is what you will see on the screen," so maybe I was a bit hard on ole' Brad.  No praise of note for Rockwell from O'Connell, though.
I wouldn't throw the film off the deep end just yet, since the low brow storytelling being described here helped "The Blind Side" along last year.  Of course, "Conviction" might face steep competition from "Secretariat" with the vanilla vote contingent, and Searchlight already has plenty to work with elsewhere.
[Photo: Fox Searchlight Pictures]