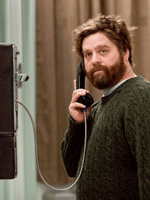 This hurts my heart.  Sure the trailer for Anna Boden and Ryan Fleck's "It's Kind of a Funny Story" looked a bit twee, but after "Half Nelson" and "Sugar," it's okay to give a little slack and offer the benefit of the doubt.
But some are walking away in outright disgust.  Tweets James Rocchi, "It's a lazy, cliche-ridden artistic and emotional fraud that loves itself to death."  Drew McWeeny, meanwhile, pulls no punches in his HitFix review, calling it "an agonizingly phony piece of work that struggles to be a sort of 'One Flew Over The Cuckoo's Nest' for teenagers, but which ends up regurgitating platitudes in place of any genuine insight or emotion."
Elsewhere, the AV Club's Scott Tobias straight up calls it a "let down" while The Playlist quips, "it's kind of a disappointment."  And this guy lands a devastating blow: "What's worse than a calculated sell-out? A failed attempt at same."
But wait, maybe it's not all so bad.  In a video review with Collider's Steve Weintraub (who "liked but didn't fall in love with" the film), /Film's Peter Sciretta says he "really related" to the film's coming of age story.  And if you need a slightly more authoritative take, Andrew O'Hehir says it's "a measured, delicate, nicely acted loony-bin heartwarmer."
I have to think this duo is incapable of the dreck Rocchi, McWeeny, etc. apparently saw, but nothing ever really surprises anymore, does it?
Again, we aren't in Toronto this year, but we'll keep collecting the festival's goings on as it happens.  So stay tuned.
[Photo: Focus Features]