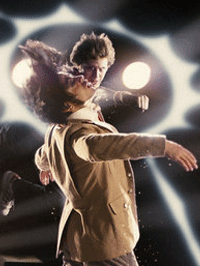 How often do you go to the movies to escape? To be immersed into a different world, whether it be fantastical, thrilling or action-packed? For many movie-goers, if not most, the answer is "frequently."
Visual effects often play a massive role in this experience.  Studios invest heavily in them and frequently try to sell films on the strength of their effects as much as their directors or their stars.  Given this, it is unsurprising that the films that are nominated for the Academy Award for Best Visual Effects are almost always big titles, often with huge budgets and almost invariably with massive revenue.
Dozens if not hundreds of individuals collaborate on the effects work of any given film. Only four supervising members of the crew can share the award, however. While there are certainly many dazzling crafts artists who are embraced in this category year after year, the branch has opened up to newcomers considerably in recent years.
The visual effects category will be changing its dynamic this year as it will be expanding to five nominees after years of using the traditional bake-off method of determining three nominees. How this will impact trends is a matter that will play out in this year and years to come. But from this vantage point, we can only look to the past.
Oddly enough, however, if there was one category where I'd put down money on the final nominees from this perch, this would be it. Not that I'm in any way guaranteed to be right. In fact, I doubt I will be. Too much can change. But five titles make the most sense right now.
Leading the way, as in so many categories, is Christopher Nolan's "Inception." Of all the feats in this film, the seamlessly integrated eye-opening effects are perhaps the most memorable. Chris Corbould and Paul Franklin were nominated for "The Dark Knight" and I suspect they'll end up with statuettes this time.
Also having made a killing at the box office is Tim Burton's "Alice in Wonderland." The film's elaborate effects will likely find some room to run in this category. The integration of makeup-effects (done by past nominee Shane Mahane), as well as the computer effects work of Oscar winners Michael Lantieri and Ken Ralston, make for an enticing mixture.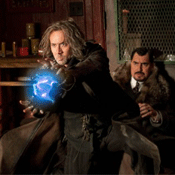 A third potential nominee I think we've already seen is "Iron Man 2." Ben Snow and Daniel Sudick, nominated for the original, returned for this sequel. It is true that the film wasn't quite the event that its predecessor was.  Nevertheless , the effects were just as good if not better and it made a killing at the box office. All things considered, a follow-up nomination looks likely to me.
Several other films that we've seen should be on the radar, but they all seem problematic in this race.
"Scott Pilgrim vs. the World" was a very clever film that I wish had caught on with the public in a more substantial way. If this was all about effects that improved the story, I am sure this film would be among the final five. But I ultimately fear that the stink of box office failure could keep it out of the final five here. The crew has never experienced Oscar love before, either, which doesn't help.
As I stated in my last two columns, I believe that "Salt" could still show up in the sound categories. The visual effects, on the other hand, are not as notable.
M. Night Shaymalan's "The Last Airbender" was, as could only have been expected, a critical disaster.  Nevertheless, it did just fine with audiences. The effects are also exactly the sort that are frequently nominated in this category. I am still doubtful it will survive to the end of the year, and the lack of past Oscar success among its crew cannot help matters, either. It still should be considered a possibility.
Disney's "Prince of Persia: The Sands of Time" was an even more forgettable summer blockbuster.  And the visual effects crew hasn't been well-represented by Oscar in the past. That said, like other titles I still would want to flag, the work itself is the sort that is often cited in this category.
I'd give another one of the studio's titles a slightly higher chance: "The Sorcerer's Apprentice." The film was a critical and box office disappointment and normally I'd assume it would be forgotten. But the crew did do quite the job in the effects department, and it was led by Oscar-winner John Nelson, which is a nice feather in its cap.
Another fairly forgettable film we've seen but nevertheless sported the kind of work that frequently shows up in this category is "Clash of the Titans." Neil Corbould and Nick Davis are past nominees. However, I don't think the film caught on enough with critics or audiences to ultimately survive to the end of the year.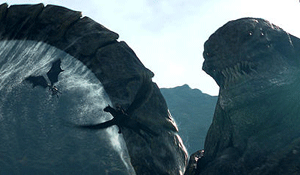 Ultimately, these other titles leave me skeptical. Rather, I'd look ahead to upcoming films to join my "safe" trio at the top.  First among these is "TRON Legacy." The film will be tremendously reliant on visual effects and I think it could bring different generations together in the theater.
Meanwhile, "The Chronicles of Narnia: The Voyage of the Dawn Treader" will attempt to revive the franchise after a mediocre outing last time around.  Visual effects will undoubtedly be central to the film, and the series was nominated with "The Lion, the Witch and the Wardrobe." Moreover, Visual Effects supervisor Jim Rygiel is a three-time winner and that certainly helps. That said, I'm not sure that this series hasn't caught on fire like it was certainly expected to.
Rather, for the final spot, I'd be more inclined to look to another sequel in "Harry Potter and the Dealthy Hallows: Part 1." This series has only earned one previous nomination in this category, but had there been five nominees in years past, I'm sure we'd have seen several more. Moreover, I think they'll want to reward the series as it wraps up. Visual effects supervisor Tim Burke won 10 years ago.
Believe it or not, we have now taken a first look at nine of the 10 crafts categories. Given that Best Original Song is impossible to analyze from this far out, we'll hold off previewing that for now. I'll be taking the next two weeks off so we can let the effects of the Venice and Toronto Film Festivals settle. Happy movie-watching.
(EDITOR'S NOTE: As Gerard says, his analysis pieces will be on a bit of a hiatus over the next two weeks.  If I can carve out the time, I'll be offering some supplement pieces to fill the void.)