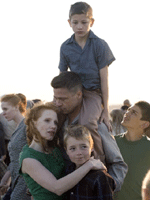 Well, things just took a turn for the worse if you're a Terrence Malick fan desperate to feast your eyes on his latest film, "The Tree of Life." But they took a turn for the absolute best if you want the film to be taken care of by a studio with resources and savvy awards planning.
Tuesday it was reported that Bill Pohlad was essentially looking to clean house at Apparition by dumping off the film and drastically cutting the staff.  Word was Pohlad was being shown to distributors, looking for a buyer.
Well, he found one: Fox Searchlight, but the film will be released in 2011.  When you think about it, it's a smart move to hold it.  They're just getting into the project and would have only three months to really prime release and awards strategies.  And the studio already has four horses in the race this year as it is.  So, be patient, and maybe next year we'll have a real stallion on our hands.
Writes Mike Fleming at Deadline:
Searchlight presidents Stephen Gilula and Nancy Utley made the deal for domestic rights. Summit is already selling international territories.

The unanswered question is whether this essentially plants a headstone on Apparition. I've been told that's not necessarily the case, but it seems clear that Pohlad was badly wounded by a Berney exit that caught him by surprise, and he might not have the fire to start again with somebody else, even while he has Tom Ortenberg staying on in a consulting role.

This is the latest in a flurry of fest deals that were closed on the eve of the Toronto International Film Festival, with Sony Pictures Classics acquiring the Paul Giamatti-Dustin Hoffman-starrer Barney's Version, and Dave Matthews' ATO acquiring the George Hickenlooper-directed Kevin Spacey-starrer Casino Jack.
I heard that about Hickenlooper's film but didn't know it was official. Anyway, there we have it. The drama finally subsides.
UPDATED (11:54am): From the Searchlight press release:
Terrence Malick has crafted a deeply moving, keenly observed and magisterial film," said [Fox Searchlight co-presidents Nancy] Utley and [Stephen] Gilula.  "Brad Pitt, Sean Penn and the entire cast's performances are simply amazing.  This is a signature film by a signature filmmaker and we are proud to be releasing it."…

THE TREE OF LIFE is the impressionistic story of a Midwestern family in the 1950's chronicling the journey of the eldest son, Jack (played as an adult by Sean Penn), through the innocence of childhood to his disillusioned adult years – trying to reconcile the complicated relationship with his father (Brad Pitt).  Jack finds himself a lost soul in the modern world, seeking answers to the origins and meaning of life while questioning the existence of faith.
[Photo: Fox Searchlight Pictures]