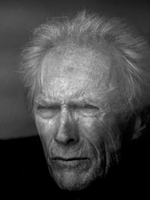 You've probably read the countless link-backs to Geoff Boucher's Hero Complex item about Clint Eastwood and how the actor turned down roles like Superman and James Bond in the 1970s.  Well, you wouldn't know it, but those quotes actually came in the context of an interview concerning "Hereafter," Eastwood's 32nd directorial effort which is set to play Toronto this weekend.
It's a solid, conventional piece that builds up anticipation for what may or may not be an Oscar play for Warner Bros.  There are no screenings set in LA during the fest (or at least that's what I've been told), though Patrick Goldstein saw the film and had vague praise to offer almost a month ago.
We get an idea of the film's plot throughout the piece, which also includes quotes from star Matt Damon.  Writer Peter Morgan was also interviewed but not quoted.  I'll admit that I haven't been following its production.  Eastwood burn-out, maybe, but I'm beginning to sense a fire of interest lighting up inside.  Then again, I guess that's what pieces like Boucher's are meant to do, so, bravo WB publicity.
Firstly, Boucher has apparently seen the film and has this to say:
This is his sixth film in less than four years, the production spanned four countries and it represents Eastwood's biggest foray into digital visual effects; it also happens to be a startling tale about the afterlife that is spiritual instead of merely supernatural.
And says Eastwood of the film:
It's a spiritual story but there are no real religious connotations to it," Eastwood said. "The [major religions] are kind of unsatisfying to the kid in our story because he's looking for something that can answer his questions. He wants a straight answer and he can't seem to find anything from people who turn out to be either psychics looking for a fast buck or people just talking … you don't really see movies like this these days that have a spiritual aspect or a romantic aspect. And it is romantic. These days you have a lot of movies about people jumping on each other in the sack but we don't have that. This is more about attraction.
We'll see how it turns out within the week.  Read the rest at the LA Times.
[Photo: LA Times]