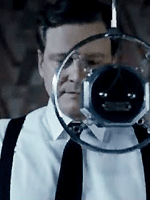 Clips are coming fast and furious for awards contenders these days.  Last week a pair from "Somewhere" and "Never Let Me Go" hit, and now, one more from the latter (which somehow turned up as an "exclusive" on two sites) and one from Tom Hooper's "The King's Speech."
The scene from "Never Let Me Go" is actually one of the scenes that bothers me most from the film for a myriad of reasons.  It's cut here before the real spoiler hits, so I guess it's safe to view.  "The King's Speech" clip does a nice job of giving you a sense of the visual style of the piece, which isn't a tame, vanilla kind of filmmaking.  I think the perception (understandably) has been that this film will be a soft lob kind of vacant filmmaking, but I maintain that Hooper brings an interesting directorial signature to the work.
Both films are set to play the Toronto Film Festival over the next week or so.  Have a look at the clips after the jump and tell us what you think.