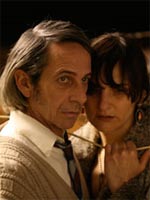 One week into the Venice Film Festival, and I don't mind admitting that I'm feeling a little worse for wear. (Okay, and more than a little hung over on free Prosecco.) Yesterday didn't exactly soothe matters, serving up as it did two of the festival's most mortifying Competition films – one of which, Alex de la Iglesia's abominable psycho-clown melodrama "A Sad Trumpet Ballad," I haven't the fortitude to write about right now – and yet more wi-fi trouble in the press room, which explains yesterday's meagre showing on my end.
With two-thirds of the festival's Competition lineup now unwrapped – including the surprise film, which rather anti-climactically turned out to be Wang Bing's reportedly very nutritious "The Ditch" – some clear critical favorites have emerged.
It is, of course, anyone's guess what jury president Quentin Tarantino might take a shine to, but it'd be a surprise if Russian entry "Silent Souls" came away from the Lido empty-handed. Meanwhile, lingering high regard for "Black Swan" and "Meek's Cutoff," whether they win awards or not, points to something of a recovery for the stars and stripes after the embarrassment that was this year's Cannes showing.
High on the list of critics' darlings, and with good reason, is Chilean auteur Pablo Larrain's startling "Post Mortem" (***1/2), an inkier follow-up to the director's already pretty black-hearted 2008 comedy "Tony Manero," and the first film of the festival to really reach inside and rattle me. Where the excellent "Manero" found an obvious source of mordant humor in kitsch cultural homage to the 1970s (and "Saturday Night Fever" in particular), the laughs in "Post Mortem" are rather more compromised, until, in a formally breathtaking final act that unfolds in a kind of slow fever, they cease altogether.
Larrain's setting is, once more, Chile's 1973 coup following the death of president Salvador Allende, though he again chooses to examine the political fallout through the disinterested eye of civilians with their own petty tragedies to negotiate. Also happily returning from the previous film is Larrain's eerily deadpan leading man Alfredo Castro, here a virtual living ghost as Mario, a lonely autopsy recorder who chooses the day of the coup to act on a long-nurtured crush on his neighbour, washed-up cabaret dancer Nancy (Antonia Zegers).
Both Alfredo and Nancy claim to be apolitical, but find themselves helplessly folded into the chaos anyway: Nancy at home, where her safety is endangered by the activism of her communist father and brother, and Alfredo at work, as bodies pile up uncontrollably in the morgue and he is instructed to transcribe the autopsy of Allende himself. Larrain documents this turmoil with a cuttingly dispassionate eye that, like that of his withdrawn protagonist, covers chilling wells of anger and confusion; the brilliant composure of his camera, coupled with truly inspired sound design, prompts an insistent, stomach-knotting curiosity about what we aren't being permitted to see.
If the film I've described in the last two paragraphs does not sound even incidentally funny, "Post Mortem" nonetheless thrives on a rich sense of the absurd: the exchanges between Mario and Nancy have a jarring metronome rhythm that underlines their remove from the more breathless events of the world around them. One of the pair's fates is sealed in the film's crushingly controlled 8-minute closing shot; it's no small achievement of this extraordinary eventual horror film that you're not sure which one is better off.
It's this kind of dramatically seething dread that Jerzy Skolimowski imagines he has conjured in his pompously minimal survival thriller "Essential Killing" (**), but there's little about the mostly efficient filmmaking on display here that doesn't feel gruelling for the sake of being gruelling – any subtext alternates between the poles of laughably transparent and altogether absent.
In a wordless performance that could easily net him a festival award for the sheer conspicuousness of the acting, Vincent Gallo plays an Afghanistan soldier captured by U.S. forces and sent to a Guantanamo-like detention center in an unspecified eastern European country; escaping into vast, unfamiliar snow-blanketed terrain, he must, as the title implies, do whatever it takes to survive. None of the increasingly (and needlessly) grisly killings, however, are likely to stir as much discussion as a truly repulsive attack on a nursing mother that is perhaps best left to the imagination.
Even this, perhaps, is less objectionable than heavy-handed flashbacks to the character's home life that have the presumably counter-intentional effect of mysticizing Islam; coming from the usually thoughtful Skolimowski, this is the breed of idle political filmmaking that protests on behalf of a side it doesn't make much effort to understand. As a tension exercise, it's appropriately taut and crisply shot (though, frankly, this is true of so many great-looking films in the Venice competition it's beginning to feel superfluous to mention it), but it adds up to nothing more meaningful than "Cold Mountain" gone Taliban, and less fun than that sounds.
Continuing a sudden burst of activity that I, for one, would be quite eager to stem, Gallo was immediately back on our screens in the noodling sub-Warhol experiment "Promises Written in Water" (*1/2) – not only acting (a debatable term for the bluntly stunned expression he maintains for a merciful 73 minutes here), but directing, writing, editing, composing and even singing, each hyphen a little less creditable than the last.
There's not much to say about this inarticulate, haphazardly shot (in mostly foggy black-and-white, just so you know it's an art film) essay on grief and emotional recovery – other than that the naïveté of its non-thoughts borders on the endearing – but "The Brown Bunny" at least had some semblance of nerve. Get worked up about the film's vagina close-ups if you must, but you'd be spending more effort on Gallo's work than he's giving you in return.