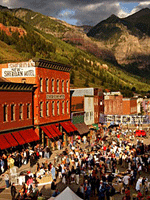 If you've been keeping up with the Telluride coverage then you know my thoughts on the 10 films I was able to catch over that four-day spread.  So I'm not going to bore you with a tedious recap here.  Instead, now that I'm back and relaxed in LA, not looking at the clock and rushing to make this or that event, I think I'll just take a moment to reflect in general.
On the way to yesterday afternoon's Labor Day picnic, as I crossed over the San Miguel River on a quaint wooden bridge, I was struck with the disappointment that has been rotting at the back of my mind during the entire festival: God I wish I could take the time to smell the roses there.
Telluride is a beautiful place to launch a film festival and its tranquility is reflected in festival-goers' sensibilities.  There aren't mobs of people out to see stars.  There aren't flashbulbs popping off around every other corner.  Everyone is very much here for the movies and the chance to discover something new.  I don't think it has been tainted, or at the very least, programmers and directors have gone a long way to keep that face out in front.
But one longs for a hike to the waterfall, or a trip up the gondola for sunset.  A leisurely stroll by the river would do the soul good, or even a drive down to nearby Ridgway (where the original "True Grit" was filmed).  And even as it pertains to the festival itself, I couldn't help but wish I didn't have the responsibility to catch the "must-sees" and could find time for fringe offerings.  I never made it to anything from Serge Bromberg's 3D shorts program, for instance, or any of the titles guest director Michael Ondaatje brought to the fest.  I never even got a chance to pay tribute to my first crush.
I missed things like "Cameraman: The Life and Work of Jack Cardiff," though talking with the film's director Craig McCall in the shuttle to Montrose Airport about the family he met who just happened upon the film because it was screening for free at The Backlot reminded me why this festival works so well.  It seems to be the best place for filmmakers and the public to have a real back and forth.  It's a place where everyone, even Faye Dunaway (in the famous anecdote), is on the same level.
It may have been busy business for me from the get-go, but I absolutely can't complain about what I was able to witness here.  I saw a world premiere Oscar contender bloom right before my eyes in the Chuck Jones Cinema.  I saw an inspiring figure celebrated for a brave if gruesome moment of self-preservation.  I had drinks with Colin Firth, Geoffrey Rush and Tom Hooper as they carried on for 45 minutes about their passions for the film they brought here.  I had a wonderful chat with Peter Weir, not only to discuss his latest work, but to pick his brain on the direction his business, and indeed, his career may be going.
And I could see the damn Milky Way in the clear Colorado night sky.
There are few things you can ask for out of a festival experience.  Many enjoy the sense of true discovery at Sundance.  Others love the media blitz of Toronto or the glamor buzz of Cannes.  But I will forever subscribe to the therapy session that is the Telluride Film Festival.  This year brought a fantastic program and I couldn't have asked for a more engaging slate of films to digest.  I already can't wait for next year.
And I want to say one more thing.  A number of you offered some nice notes and comments along the way.  That means more than you can imagine, because when you're up to your neck in coverage like this, eating when you can, sleeping few hours, hustling from one location to another, you really have no perspective on your own work at all.  All you can do is offer your modest thoughts (whether they be dismantled elsewhere or not) and keep going.  Reading your appreciation kept the gas tank full, I can assure you.  I ask that you offer the same continued support to Guy, who is most certainly working twice as hard as me an ocean away in Venice.