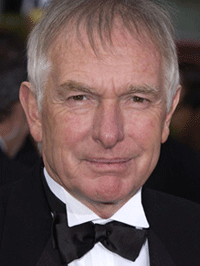 Telluride Film Festival
For director Peter Weir, the pacing of his output has become almost as measured as his brand of cinema. The Australian has built a career around art house grandeur, but his work has slowed to a handful of films per decade, in stark contrast to the frequency of the 1970s and 1980s.
That could be reflective of a professional desire to take his time from project to project, but another hypothesis could be the fact that the general movie-going audience has shown a reluctance to the product Weir and those like him provide. The industry is changing around him, and for his part, the director appears to be a mighty oak in the storm.
"I've sensed this profound change that's occurring in the industry that's not purely locked to the Wall Street crisis," he says in a modest hotel room here at the Telluride Film Festival, where his film, "The Way Back," saw its world premiere. "That's obviously a significant part of it, but what I thought was there is a change in taste amongst a growing audience that really likes sequels and likes their films very, very simple and in the area of pure spectacle. They're not interested in structural character, and I think the studios and others have reacted to that."
However, Weir says he thinks it's all "a bit of baby out with the bath water because they then more or less said, 'That's it, that's the change.' Well people and audiences don't change overnight. And I think there's a large audience left high and dry, the type of people who appreciate a program like here around the world who are saying, 'What happened? There's nothing on.' Everything does change but I think there's been an over-reaction on the part of distributors and there's been a kind of deep conservatism that has come in which has led them back to what we call the genres."
His latest film is a perfect example of the kind of cinema, however powerful or brilliant, that doesn't make the fiscal sense it may have once upon a time. When Exclusive Films, the company which made the film, went out seeking a leg up from major distribution studios, the result was a "thanks, but no thanks." Weir says it was somewhat anticipated, but Newmarket Films, a subsidiary of Exclusive Films, took on the task of bringing the film to audiences and as a result, the director's work has found a loving home.
But the fear for lovers of Weir's brand of cinema ought to be the idea that this changing of the tide could significantly impact the creative decision-making process and the kinds of projects which are chosen in such a climate. Weir says he's asking himself that same question, but hasn't come up with an answer yet.
"I think I'll probably wait and see how this film goes," he says. "I'm not one to overstay my welcome. I'd say we could continue to make films in some way or television or write short stories or something but I'm disappointed that so far there doesn't seem to be a young, Weinstein-type team coming through in the distribution area. I thought this would be an opportunity for someone in this kind of panic and caution to take advantage of it and it's a chance to build a new company that could put together, just as these directors of this festival do, a very good program."
There are options, of course. IFC Films, for instance, frequently takes on efforts that don't make sense for the major studios. Then again, IFC has adopted a day-and-date release strategy for a number of its films that brings quality work to viewers via the small screen.And  the last place one should experience a film with the scope of "The Way Back" is on the small screen. That changing tide of delivery systems is very much on Weir's radar.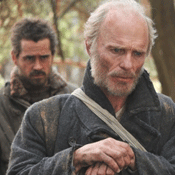 The new film tells the story of a troupe of Siberian Gulag escapees who marched 4,000 miles across snow and desert, flatlands and Himalayan mountains to reach the Communist-free territories of Tibet and, eventually, India. In many ways it's straight-forward for a film like this, but it also adopts an intriguing vignette structure to slowly reveal its characters to the viewer.
"With a very linear structure like this, in terms of filming, you really had not a lot of choices," Weir says. "You either said it was an action film, that's a convention, probably the major convention. In a situation where they have to outrun the pursuers you then could have a cliffhanger-type film where you really have the audience on the edge of their seats. And the route I chose, which was to say they kept putting one foot after the other and there were enormous difficulties. What we would learn as we went along was their back stories, as it were, because conventionally you'd probably let the audience know something of who these characters are in the prison early on so that you get invested with them, then you follow them. In this case I risked you not even necessarily having sorted out who's who for quite some time and then revealing that as we went along."
Specifically Weir took another look at Akira Kurosawa's "Dersu Uzala," in which, as he puts it, "nothing much happens." The wandering narrative and the sense of an unseen outer pursuing danger (bandits) was gripping for Weir and became a kind of inspiration.
When it came to casting the film, Weir says he wanted those who could deliver an authenticity. He wasn't concerned with a docudrama style of filmmaking, but he offered his actors deep research, as well as interviews with and written records about survivors from Russia and Poland, so that they could attain that authenticity on screen.
"It wasn't just that they were right for the part," he says, "but that they had a kind of spirit about them. Because this was going to be very hard and very fast."
Weir wanted as many Europeans for the cast as possible and early on he settled on Jim Sturgess for his lead, Janusz. Sturgess is a solid anchor for the audience throughout, but the performance doesn't stand out as a traditional leading powerhouse. Weir says that's exactly why he got the part.
"I saw others who had perfectly acceptable auditions," he says, "but generally speaking there was an intensity or even an obsessiveness. They were haunted in a particular way. And then there was also a certain, sometimes, heroic feel about the person. They were the leader, whereas what Jim presented was a very ordinary man who was not in any sense ready to lead adventure like this. And the drive he had was not neurotic. It was to do with love. And he grows into the hero and the leader."
Colin Farrell offers a truly stand-out performance as Valka, a Russian hooligan you wouldn't want to pass in a dark alley. Weir was particularly impressed with the actor's ideas on his character.
"The things he said were so fantastic, things I'd not thought of," Weir says. "He worked a walk out because he said he thought he'd have this particular spinal condition. He talked about his tattoos. But most important of all he said it's a man that we don't really know. It'd be very rare in your life you'd have met anybody like this, the way they see things. It's like a tribal person, almost. So I thought, 'Wow, just impressive.' And I felt just excited that I had him."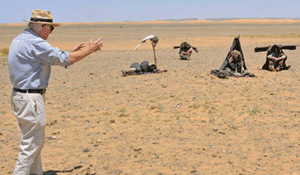 Weir has worked with Ed Harris once before, on 1998's "The Truman Show." Here Harris plays a rather nihilistic American ex-pat. The director says he was fascinated by the experience level Harris brought to the proceedings.
"I just watched him during production," he says. "He drew on everything he knew. It was like a sort of doctoral thesis on screen acting. It was the sum total of everything he's learned in his life from a thoughtful performer and artist and director. And he never really stepped back from that character, except for a few parties. He was always in character."
Weir says Harris also frequently made little props for his character throughout, something the director says he encourages, particularly on a film like this. "I said anything you want to pick up or make, it's up to you," he says.
The production doubled Bulgaria for Siberia and Morocco's Sahara for Mongolia. And after a lot of paperwork, Weir and company were able to film in India on the southern slope of the Himalayas. The landscape is captured with typical grandeur by Weir's director of photography, Russell Boyd. But while the scope is considerable, Weir nevertheless notes that he once thought the story could make a fantastic stage play. Perhaps that was a way of grounding the drama amid the scenery. "It was probably to remind me of those six, seven faces that are going to be set in this landscape," he says.
During the 60-plus day production, Weir told his cast to be prepared that he might sometimes just use one take. "I said, 'Be ready for the day's work, thinking through if you've slept the night before, if the mosquitoes are bothering you, who you're walking near. Help me, because we're just going to start shooting.' And I think in the end everybody responded to that because of the momentum you get. But it was very tiring."
There was once a possibility, however frightening to consider, that "The Way Back" would be released directly on DVD. Whether one thinks cinema is meant to be experienced on a large screen or not, certainly few would argue that something wouldn't be lost if Weir's work, particularly in this instance, wasn't seen theatrically. But peripheral to that, he says he thinks it just plays better with an audience around.
"I think something's transmitted," he says. "And I don't think that's true of all the films I've made. I think some of them, it doesn't matter, it's not even relevant. But there's something with this film and the built-in metaphor about it, survival, what makes you keep going? Life gives you blows and you get up or you don't. So I think there's some pulse in the film that I never planned."
"The Way Back" is currently set for domestic release by Newmarket Films on Januarry 21, 2011.