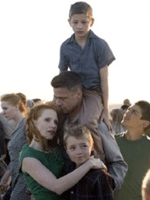 Boy, the story on Apparition and Terrence Malick's "The Tree of Life" just keeps stacking up the drama.  Mike Fleming reports this afternoon the company has obliterated much of its staff because "there were no films to distribute," and that Bill Pohlad has been showing the film to studios and is looking for a distribution deal for the film.
What a difference a year makes, huh?  Just 12 months ago it seemed like there might be a bright new day for indie distributors.  Companies like Apparition, Overture Films, Summit Entertainment, etc. were beginning to get a foothold in what was looking more and more like an underdog season.  The Best Picture winner was a film that came and went at the box office.  Now a guy like Peter Weir can't get arrested and a Malick film is looking for a little help.
I imagine at this point we're probably looking at a 2010 release for the film after all.  Someone is bound to take the plunge (since it's been since way back in August of last year that Apparition acquired the title).  Let's hope so, anyway, lest we have another situation akin to "The Way Back." Meanwhile, another home for this kind of cinema is slowly biting the dust (a downward spiral initiated with Bob Berney's abrupt pre-Cannes departure).
Writes Fleming:
This development validates talk I've been hearing that Pohlad has been showing the Terrence Malick-directed Tree of Life to distributors. I understand the film will land shortly. That means Malick has finished it and it will likely factor into an Oscar race which has suddenly gotten interesting with films that include Black Swan and The King's Speech. Tree of Life, which stars Brad Pitt and Sean Penn, was originally going to be the big title on the Apparition slate, but that scenario collapsed when Bob Berney made a surprise exit on the eve of the Cannes Film Festival. Berney is expected to start an indie distribution company at GK Films, though this hasn't been confirmed.
Read the rest at Deadline, and feel free to use this space to beg a studio to bite. I know there are lots of sight-unseen fans out there.