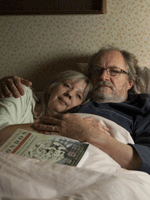 The final trio of films I caught at this year's Telluride fest, which is slowly winding down this holiday, were a bit of Cannes catch-up.  The first, Alejandro González Iñárritu's "Biutiful," I responded to yesterday.  The other two come from Sony Pictures Classics, which has a whopping five films in play here, and will have nine at Toronto later in the week.
Before getting to those reactions, though, I have to say that this year's program has been absolutely wonderful.  I'm only on my second year, but long-timers seem to concur that festival directors Tom Luddy, Gary Meyer and Julie Huntsinger really outdid themselves this time.
I'll talk more in the way of wrapping things up sometime later tonight or tomorrow.  For now, I have just enough time to offer up these capsules, update the predictions sidebar and contenders section, hopefully make it to an interview with Darren Aronofsky (which may have to wait until post-fest) and prepare for a 3:30 departure.  The latest Off the Carpet column will come later.
Let's get on with it…
"The Illusionist" (***1/2)
I came away from Sylvain Chomet's "The Illusionist" wanting desperately to do one thing: visit Edinburgh.  The auteur and his animators have beautifully crafted the cityscape in such a way to suck you into its architecture while dishing a narrative that lands a solid emotional punch by film's end.  You might recall Guy's breathless enthusiasm from Berlinale way back in February.
Based on a previously unproduced screenplay by Jacques Tati, the film is obviously a love letter to the French comedic filmmaker.  Chomet shares comedic sensibilities with Tati, yes, but Tati's own work on 1958's "Mon Oncle" evenshows up on a theater screen in bold black and white live action glory.
That sense of showmanship is certainly lingering in the film, which tells the story of a magician searching for an appreciative outlet to perform his art.  But the more apparent tale of two souls moving slowly and inevitably apart couldn't be more affecting.  I imagine Chomet's contemporaries will make room for the film in this year's animated feature contenders (less they look absolutely foolish), but it would be very impressive and heartening if the music branch would take notice of Chomet's talents as a composer as well.  I won't hold my breath on that.
"Another Year" (****)
Mike Leigh's latest, "Another Year," couldn't have been a better punctuation on Telluride 2010 for me.  I saw it bright and early this morning and was moved from fade in to fade out, taken completely in by the talent on display and a narrative with a potency that couldn't possibly be conveyed in this short space.
The film is a master class in every element of filmmaking.  What Leigh does on the page, every screenwriter should emulate.  What actors Jim Broadbent, Ruth Sheen, Peter Wight, David Bradley, Imelda Staunton and, absolutely, Lesley Manville accomplish on the screen ought to be the envy of any studying (or indeed working) thespian.  Dick Pope's photography is quietly exquisite (containing one shot that's sure to appear in a favorite end-of-year column).  Jon Gregory's editing is perfectly timed, seamlessly resolute and only helps to tell this poignant story with the grace it deserves.
I honestly can't say enough about it.  Guy was a big fan at Cannes (though perhaps not quite as enthusiastic as me), but for me, of the 2010 Sony Classics titles I've seen, this one is their gem.  It falls in line with the best the studio has offered this decade: "A Prophet," "Synecdoche, New York," "Talk to Her," etc.  And to say the least, it's Leigh's finest hour in years.
More to come as we wind down.