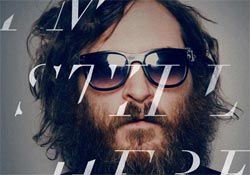 Venice Film Festival
"This is the moment where the fucking good guy wins," yells an evidently kite-high Joaquin Phoenix at a hapless member of his entourage, midway through his brother-in-law Casey Affleck's debatable documentary portrait of the star's much-publicized career meltdown.
It's a little difficult to spot the victory – or, indeed, the good guy – in this and many other such tantrums that pepper "I'm Still Here": the film can be interpreted in a number of ways, and Phoenix comes off pretty awfully in most of them. Is it all a hoax? More specifically, could Phoenix's actions – his abrupt 2008 "retirement" from the screen, his intended hip-hop career, his bizarre new American-Apparel-rabbi look – all be an elaborate stunt, and the film somehow not?
Affleck was predictably unforthcoming in this morning's press conference: "Elliptical" was his one-word answer when asked how he felt about the allegations of fakery, supported by certain scenes in the film that have obviously been (re)staged. (The closing credits feature a cast list in which not every player is billed as themselves.)
The most surprising discovery about "I'm Still Here" is that the possibility of it being a ruse doesn't much diminish its value. Indeed, the film is probably more interesting viewed as an immensely committed, avant-garde performance piece by Phoenix ("career suicide as conceptual art," to quote one critic I spoke to after the screening) than as an ingenuous documentary – in which case, for all Affleck's claims of wishing to offer a compassionate study of his friend, the film is a rather narrow, and even exploitative, work.
In either light, Affleck has crafted a ragged but grimly compelling essay on our vile celebrity-news culture, in which the aggressors aren't only the bottom-feeding journalists who delight in stories such as this one, but the celebrities – of whom Phoenix may well be one – who are spurred on by their attention. (It's not every film where one gets to call P Diddy the voice of kindness and reason, but these are the times we live in.)
I'm not convinced that "I'm Still Here" is entirely smart or meta enough to be exempt from this tail-eating circle, but it's inarguably a film of its era: should it find its way into a time capsule, future viewers will learn a lot more about us from watching it than they will about Joaquin Phoenix. They will, however, inevitably conclude that that Phoenix guy is a bit of an asshole: needy, combative, solipsistic and not terribly bright, the persona (affected or otherwise) he projects here is hard work to be around for an excessive 108 minutes, and this tiring one-note quality gradually seeps into the film itself.
The actor is so obnoxious in some scenes as to make you conclude he must be testing the camera; in others, notably a remarkable sequence following a failed Miami rap gig in which he attacks a crowd member and winds up puking his guts out backstage, he seems authentically, and rather frighteningly, out of control. If "I'm Still Here" really is a performance, it's a bold and fully imagined one, and a reminder that Joaquin Phoenix is too useful a talent to be mismanaging himself quite so spectacularly.
[Image: Magnolia Pictures]