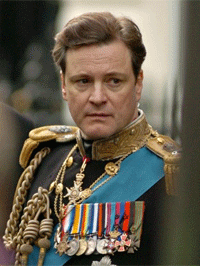 Telluride Film Festival
For actor Geoffrey Rush and director Tom Hooper, David Seidler's script "The King's Speech" came to them by serendipity. Still in stage play format, it arrived at Rush's Melbourne residence with a note apologizing for a cold call avoiding the traditional agency pipeline. For Hooper, it came to him because his mother happened to be Australian.
"My mom was invited by some Australian friends to a fringe theater play reading of this unproduced play, having never been to a play reading in her life," the director says, tucked into a booth with Firth and Rush at Telluride's Rustico restaurant. "They were like, 'We need some Aussies in the audience, would you come along?' She called me up and said, 'I think I may have just seen your next film.' She sent it to me and it sat on my desk. Two or three months went by and I read it in one sitting. I rang her up and said, 'You're absolutely right.'"
Rush politely declined the offer to star in a play that was "trying to be 'Henry V,'" but noted that the central idea of Australian speech therapist Lionel Logue assisting King George V with his stammer could make for quite the film. His copy of the script, by the way, was accompanied by a DVD of the very reading Hooper's mother attended.
Hooper's father lost his own father in World War II at the age of three and, as the director puts it, the story of Hooper's childhood was his Australian mother unpacking some of the damage done to his English father so early in life. "In a way that childhood story is this story, because this is an Australian unpacking the damage done to an English king by his upbringing. I never realized how it related to my own childhood until I finished the film. In a weird way I think it's the most personal piece of work I've ever done."
Hooper filmed the proceedings quite uniquely. Choosing to place the camera very close to his actors with a wider lens, he captures an intimacy that is only assisted by the lived-in performances from Firth and Rush.
"I used Stanley Kubrick's favorite lens, the 18 mil," he says. "I worked with Larry Smith, who worked for Stanley for years and years, and I learned a lot from him about how Stanley used to work. I chose it for this film because I like the way it means people are always in relation to their space. It pulls the world right into you and people are always framed in an architectural environment. I was interested in faces in relation to negative space here. I just had a feeling that I wanted to be incredibly intimate and close with the actors. There's a strong sense of exposed scrutiny that happens when the camera's that close."
Firth, the only member of the trio to come by the script through conventional means, got to know Rush during the east coast promotion of John Madden's "Shakespeare in Love." In Hooper's film, the two have a chemistry that would suggest they'd worked together much more than the brief interaction they encountered on that Oscar winner. By design, however, the shooting schedule called for the filming of George VI (known affectionately as "Bertie" to friends and the Royal Family) and Logue's first meeting on the first day of shooting, and one of the most important scenes of the entire film.
"I've often started a job where the first day is you walk down a corridor and look out a window," Firth says. "You feel the thing is sort of being held at bay from you and you're not sure what you're committed to. I did a film once where weeks went by before I got into the meat of it, and I began to lose connection with it. I knew this thing was taking place, but I had no foothold."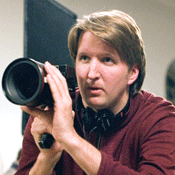 "The King's Speech," on the other hand, couldn't have been more different. It wasn't just that the production started out with an essential scene, but Hooper started with a shot that had a way of committing the actor as well.
"He didn't start with a big master shot of the room," Firth says. "It was the single of me on the sofa, which means I'm up now, you know, I'm not going to sort of find my way via, 'This is how I walk into the room. I can mess it up a little bit here and then finesse it in the close up.' This is it. I'm on."
The script's beginnings go way back to the early 1980s, when screenwriter Seidler, who himself had overcome a stammering impediment earlier in life, wanted to tell Bertie's similar story. He found Logue's grandson, Valentine, and asked for diary material to inform the script. But when he wrote to the Queen Mother asking for permission to proceed, she preferred it to be not in her lifetime. The events were still too fresh. Nearly 30 years later, in 2005, he finally sat down to write it, having lost contact with Logue unable to include that extra touch of authenticity.
Fortunately enough, Hooper and the production were able to obtain the diaries when the film started percolating, a veritable treasure trove of material for Firth and especially Rush to play with.
"We spent three weeks in pretty serious script analysis and development," Rush says. "We'd just received the diaries and were trying to incorporate some really fascinating ideas that were alluded to in the screenplay but weren't concrete. Tom's thing was why fabricate a dramatic narrative drive when the real facts are actually that much more interesting? It deepened and got many more grace notes and subtleties."
Rush, himself an Aussie, was disheartened early on with some of the casting ideas for Bertie.
"People started bandying about names and I'd say, 'No, you can't have an American playing George VI.' People will always say to me, 'You played Trotsky,' who is Russian. But there's a quintessential Anglo-Australian conflict, which is its own thing."
He also says he felt the material would have been undercut if Logue wasn't handled with particular aversion to modern stereotypes. "I thought we would really cheapen this story if we over-Australianized for an international audience what an Australian speech therapist might have been like in the 1930s, if we made him like a Paul Hogan figure. The Crocodile Dundee figure didn't really emerge until the 1970s. There would have been much more of an absorption into English culture. I really feel it's a kind of attitude and energy and a nobility to stomp on stuffy orthodoxies of British culture just by a natural Australian sense of how you enter a room."
Firth chimes in, noting, "And also it would have been so reductive because it would have been Royal vs. Crocodile Dundee instead of two men."
For his part, Firth says he was wary of falling into an arena of self-pity with his character's somewhat emotional childhood story. "There's a precipice here," he says. "It's a very thin line. There's a device at heart that protects you from it, which is just self-awareness. There's an Englishness in there. Whatever you're talking about, there's a wryness that accompanies it. That's what I hoped was the tool that would save it from that with a lot of these tales of woe. As long as there was a way to say, 'I'm detached enough to be able to tell you what I'm telling you. I'm not just opening my veins here.' And that's in the real character of Bertie."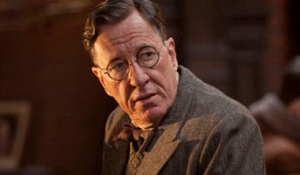 There were some post-therapy audio recordings of Bertie for Firth to go by when it came to developing the stammer, but mostly it was a contrivance of his own. He had plenty of touchstones, however, beginning with his sister.
"My sister is a voice therapist," he says. "She deals with psychology as it's related to speech. It doesn't have to be about impediments so to speak. It can be about people feeling compromised about how they come across. Logue is kind of psycho-analyzing by stealth, you know, give him a brandy and see if we can draw something out. And that was a very progressive way of thinking at the time."
Another reference was Derek Jacobi, who "wrote the book" on stammering in movies, as far as Firth was concerned. The film he's referencing, of course, is "I, Claudius," but the story gets interesting. Firth once worked with production designer Bruce Macadie, who himself had a stammer. The actor used Macadie as a source of sorts on the film. Jacobi, meanwhile, was on the set of "The King's Speech" one day and told Firth about his source on "I, Claudius," a young painter by the name of…Bruce Macadie. So Claudius and Bertie are forever linked on screen, it seems.
And of course, Seidler himself had plenty of insight, given his history with the affliction.
"He said you would just hit this self-perpetuating loop," Rush says, "where if people knew you were going into any sort of therapy, socially you'd be like, 'I've learned a few techniques to get myself through. Now everyone's looking at me waiting for me to be abnormal,' and the mind game, you know, it's eating its own tale."
Says Firth, "He'd also say you'd end up ordering something different because you don't want to say the word of the thing you want. If you have trouble with 'f,' you decide not to have the fish. You go for the steak. So you're actually getting yourself around things and saying things you don't really want to say. And he said this, and it was very useful to me, he said, 'It's all you think about.'"
Peripheral to the stammering was simply the nuance of speaking like the Royals, which was its own challenge.
"There was a key figure who had nothing to do with the stammering, Neil Swain, who put us on the calendar in terms of how people spoke then, people of that class," Firth says. "When you listen to recordings of people in the 1930s, it's a different tambour, a different pace. But if you hear the royalty, it has almost become an entirely different dialect that the same class of people speak now who did of that generation."
In Firth's research he discovered a story of particular influence when it came to understanding a potential need for a friendship like the one that developed with Logue. It began when one night, a gentleman caretaker took off Bertie's leg splints (which were meant to assist in correcting his bow legs).
"Bertie had to wear them to sleep as well and they hurt like crazy," Firth says. "He felt such sympathy for the agony that this boy was going through to sleep. It was a real gift to do that and George V found out about it the next day and gave him a real dressing down. That's an interesting story. What it meant to me was, who was looking after him? It wasn't his mom. It wasn't his dad. It wasn't even the nanny [who is documented as insufficiently feeding Bertie for some three years]."
And ultimately, that was the most important dramatic thrust needed to bring the script alive in ways that could connect with most viewers, the idea of friendship getting you through the tough spots.
"I think the thing that took longest to develop was that, in the end, the thing that saved him was the friendship between the two men," Hooper says. "That wasn't in the script. At the end, he doesn't lose his stammer. He's not cured. What helps him in that moment [when Bertie delivers an important wartime speech] is his friend."
"The King's Speech" plays the Toronto International Film Festival Friday, September 10. It opens nationwide November 26.
Here is the audio from the interview, as promised:
[display_podcast]
[Photos: We Are Movie Geeks, DGA, The Weinstein Company]