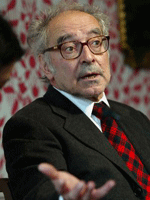 You might recall that, in the wake of auteur Jean-Luc Godard being tapped as on of the year's Honorary Oscar recipients, the French New Wave pioneer turned up missing.  Well it seems he may have been actively avoiding that phone call from AMPAS brass.
Godard's girlfriend, Anne-Marie Mieville, spoke for him in an interview with The Australian, and she didn't mince words:
He just told me, 'It's not the Oscars'…At first he thought it was going to be part of the same ceremony, then he realised it was a separate thing in November…Jean-Luc won't go to America, he's getting old for that kind of thing. Would you go all that way just for a bit of metal?
I don't suppose we should have expected less, though the circumstance digs up the questioning of the Academy's decision last year to relegate these honors to an untelevised satellite ceremony in the fall rather than as part of the usual festivities in late February.
What say you?  Is Godard being a bit stubborn?  Is he spot on?