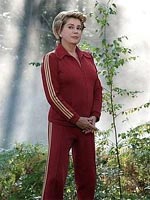 Hey, did you miss me yesterday? Don't answer that. Sorry for the radio silence, but Saturday proved to be both my busiest and most rewarding day at Venice, serving up five films — none of them stinkers, and one of them perhaps my favourite of the fest so far.
After capping the day's viewing with a delightful pasta dinner in the company of two of Variety's finest, I took the water-bus back to my San Marco hotel room in a pleasant fog of good feeling and red wine, only to find the wi-fi in my hotel room had taken the night off.
As it turned out, it was just as well: today's festival schedule being a lean and mostly unappetizing one, I rewarded myself with my first lie-in of the week (sorry, Tsui Hark) and began afresh in the morning. Late-night reviewing is fraught with hazard, anyway, as I'd learned the night before when I nodded off in the middle of writing up "The Sleeping Beauty." (Before you say, "How apt," let me remind you that there is no beauty in waking up at 5 a.m. with keyboard-face.)
Anyway, after that night, a soft start was needed to the day, and "A Letter to Elia" (***) obligingly provided that. Directed by Martin Scorsese and film critic/archivist Kent Jones, it's pretty much exactly what it says on the tin: a heartfelt, comforting if mostly unrevelatory valentine to Elia Kazan and his work that extends Scorsese's night job as everyone's most benevolent film studies professor. He narrates both on and off screen, sharing personal reflections and reminiscences in a manner that will be familiar to anyone who saw "A Personal Journey with Martin Scorsese Through American Movies," of which this may as well be another chapter; Jones's contribution, on the other hand, is rather less visible.
Clocking in at precisely one hour, the film is clearly designed for a PBS-style TV airing, though the brevity is inevitably constricting when taking on a life and career as rich as Kazan's. His filmography is rather selectively picked at (I suspect clip rights were an issue — no "A Streetcar Named Desire?") and while you wouldn't Kazan's controversial testimony before the House Un-American Activities Committee to be particularly incisively examined by a friend like Scorsese, it rates more discussion than it gets here. Analysis of the films themselves is limited to obvious emotional responses when it'd be nice to hear Scorsese wax a little more technical, but any excuse to wallow in footage from "On the Waterfront" or "A Tree Grows in Brooklyn" again is a good one.
Isn't Catherine Deneuve great? Doesn't she still look amazing? Wouldn't it be awesome if she ran the world? That's pretty much the full docket of questions asked by François Ozon's fizzy, silly, pop-brite comedy "Potiche" (***) — the title is French for "trophy wife" — and every one of them is rhetorical.
Set in the late 1970s (for little reason, apparently, other than to let the production designers have a ball with geometric wallpaper and velveteen-covered phones), the film charts the decades-late, but otherwise swift, self-actualization of Deneuve's bored, pampered housewife, unhappily married to an openly unfaithful industrial magnate and still doting on her now-grown children. When, through sitcom reasoning, she takes over as the figurehead boss of her husband's factory to appease striking laborers, she finds that she rather enjoys working for the first time in her life — and sets her sights on higher power ladders.
If that makes it sound like some kind of feminist fable, rest assured that the film is less concerned with women than with one particular woman: that'd be Deneuve, who enters the film jogging in an incongruous Sue Sylvester tracksuit, leaves it lustily belting a triumphant chanson, and is given free rein in between to indulge her under-used comic gifts. Game supporting players like Gérard Depardieu wisely cede the spotlight to this knowing diva turn.
Ozon, his mood switching almost psychotically from one film to the next these days, is back in the campy, high-key drawing-room mode of "8 Women"; as in that film, his stylistic commitment to the cause in "Potiche" is both impressive and faintly exhausting, but with Deneuve having such contagious fun at the center of it, one is loath (not to mention a little scared) to complain.
If the day offered no bad films, it nonetheless offered the first title on my most-anticipated list to disappoint: avant-garde British documentarian Patrick Keiller's "Robinson in Ruins" (**1/2) follows much the same formula as its wonderful predecessors "London" (1994) and "Robinson in Space" (1997), continuing Keiller's archly academic diary of the fictitious Robinson's British travels, but skimping on the tongue-in-cheek wit that once energized the project's simple presentation. (Those who haven't seen at least one of Keiller's other features will likely be utterly bewildered by this one.)
Part of that absence cannot be helped: the late Paul Scofield's narration was the star of the previous instalments, and Vanessa Redgrave, while a distinguished vocal presence, can't quite recapture the magic. Addressing as it does matters of economic downturn and decay in modern Britain, it's understandable that Keiller should take on a more somber tone this time around, but while the observations remain as acute as ever, this is the first of his films to feel more like a lecture than a conversation.
Later: Thoughts on two more Competition titles, Pablo Larrain's "Post Mortem" and Jerzy Skolimowski's "Essential Killing." Tomorrow's attractions, meanwhile, include Casey Affleck's "I'm Still Here" and the surprise film — which I thought I had nailed, but am now hearing conflicting rumors about.
(This post is dedicated to my older brother Kim, whose 30th birthday it is today, and who probably wouldn't like any of these movies enough to make this dedication particularly fitting.)
[Photo: Mandarin Cinema]