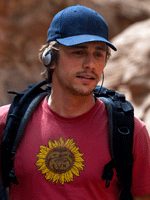 Danny Boyle's "127 Hours" made for a fascinating companion piece tonight with Peter Weir's "The Way Back," which I caught (and loved) this afternoon.  Both films, at their heart, are obviously about surviving at all costs, but they come from drastically different filmmakers with drastically different sensibilities when it comes to visual storytelling.
Where Weir chooses the majesty of epic scope and films his true story with a lingering sort of patience, Boyle sets about filming his true story with the energy and vibrant spirit we've come to expect of his work.  Both films, however, find their groove in the naturalistic, mundane moments that inhabit tales as harrowing as these.
I understand Boyle's film was very well-received this afternoon when it debuted.  My audience in the evening was slightly more muted but clearly loved the film.  It helps when you have Aron Ralston in the crowd, of course.  His is an unbelievable tale and one with a rather beautiful message about the necessity of community and society to carry us through the day-to-day.
Indeed, Boyle chooses to open the film with fleeting images of a society moving like a living creature — traffic, crowds, etc. — by way of depicting the rush Ralston abandons in search of his own.  When the images return by film's end, we understand them as the whole Ralston chose to engage while caught, quite literally, between a rock and a hard place in Canyonlands National Park.
As Ralston, James Franco is nothing short of brilliant and he makes it look easy.  Again, it's the naturalism that goes far here, as the actor seems fully in Ralston's skin from frame one.  He'll likely find his way through the circuit to a Best Actor Oscar nomination, but while others seem to think the film is a shoo-in for other honors as well, I'm a bit hesitant.
I wonder if the Academy will respond to a chamber piece such as this, and one that inevitably dips into the gruesome.  I found some of Boyle's visual ideas to be running out of gas by the end of the film, and I imagine others might feel burdened by a sense of repetition, too.  But I'll wait and see how the reactions go first.  I'm frankly still trying to put a finger on my own thoughts.  I certainly think the sound work, film editing and cinematography (though the digital was a bit sterile at times) is worthy of consideration.
Tomorrow brings the U.S. debut of Darren Aronofsky's "Black Swan." I'll also try to catch up with some Cannes titles and, eventually, will write up an interview with Colin Firth, Geoffrey Rush and Tom Hooper that was one of the best times I've had in such a setting.