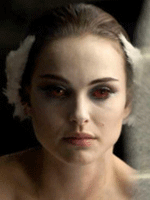 Today was a long one here at Telluride.  Three screenings (which has been my consistency throughout the fest), an interview, transcribing, etc., etc.  The night mercifully brought little that interested me, so I've finally found some time to work.
This afternoon started with a screening of one of Guy's favorite films of the year, "The Illusionist." I wasn't as enthusiastic as he was, but I kind of want to hold off on putting my thoughts down while I let it marinate a bit.  It's not a difficult film or anything, it's just a visual feast that should be turned over a few times before settling on a view point, I think.
After that it was off to the Venice hit, Darren Aronofsky's "Black Swan." Hundreds of people were turned away at the door and this, without a doubt, has been the festival's hottest ticket.  The Lido can take a bow on that one.  Actually, Aronofsky's twisted thriller seems the best place to start, so…
"Black Swan" (***1/2)
It must be incredibly difficult to set out to make a film like "Black Swan." There's an inherent danger in the material that leaves you at the risk of falling into the precipice of camp, to be frank.  But to do it, you have to just dive in, commit yourself and to hell with the consequences.  You have something to say.
In many ways, it's the perfect metaphor for the plight of the film's protagonist, Nina, played with blistering diligence by Natalie Portman.  Nina is a ballerina, but she's obviously representative of the archetypal self-restraining artist, struggling with the hang-ups and draw-backs of lacking confidence, elevated standards and inner expectations.  For Aronofsky, clearly, an artist is his or her own worst enemy, so it's no surprise that mirrors dominate the mise-en-scène (perhaps to the point of overkill) while a black and white, yin and yang motif is nurtured throughout.
The film is the perfect marriage of Aronofsky's past work, containing all of the paranoia of "Pi," the identity concerns of "Requiem for a Dream," the sense of inevitability apparent in "The Fountain" and the professional obsession of "The Wrestler." Portman gives her best performance to date and could well find her way to an Oscar nomination, while Matthew Libatique's splendid photography also deserves recognition.  It may play too dark to AMPAS types, but I imagine many members will at the very least grasp a powerful theme that relates very much to filmmakers as it does as to painters, musicians and, well, ballerinas.
"Biutiful" (**1/2)
Alejandro González Iñárritu sets out for the first time this year with a film crafted outside of his former partnership with screenwriter Guillermo Arriaga.  In many ways, "Biutiful" gorgeously captures some of the most natural performances of the year.  But while it tells a wrenching if touching story of parental duty and noble intentions, it doesn't feel built for the distance and suffers under the weight of unbridled ideas lacking structure or thematic virtue.
Javier Bardem is Uxbal, though he might as well be Job.  And he is admittedly flawless, giving a performance so subtly pristine that I truly lost myself in the character and forgot the actor.  It's the kind of offering fellow thespians will surely respect, but I wonder if they will make it through the film in order to give the actor a fair shake this awards season.  Roadside Attractions will certainly be banging the drum on his behalf.
Whether it worked for me or not, I'm happy González Iñárritu made the film he wanted to make.  While introducing tonight's screening, he said he sought something simpler after the continent-spanning "Babel." But one gets the feeling he funneled complex ideas into a narrative package that couldn't quite sustain them, or couldn't quite make sense of them (nevertheless running some 138 minutes).  I respect the effort, regardless.