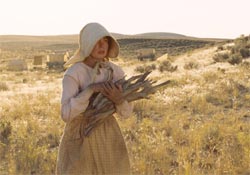 Venice Film Festival
"But nothing happens," complained several friends to whom I had (perhaps a little too zealously) recommended Kelly Reichardt's previous feature "Wendy and Lucy," her pocket masterpiece about the mental unravelling of a stalled drifter in the great American nowhere.
It's hard to say whether such viewers will be appeased or even further dismayed by Reichardt's subtly muscular and altogether staggering follow-up, "Meek's Cutoff," which sees the director taking on a propulsively linear narrative – an ox-wagon road movie driven by the most fundamental of human needs – that nonetheless still finds its greatest dramatic significance in minute human exchanges. This is a film whose story turns on one character's offer to repair another's shoe, the implications of this small act weighted so as to hold you in hushed fascination through every stitch.
If, then, Reichardt remains an astute chronicler of what happens when nothing happens, "Meek's Cutoff" affords the director her largest canvas yet on which to ruminate. A 19th century-set Western covering the most severe and spectacular stretches of the Oregon Trail to transfixingly beautiful effect, the film expands its focus from the selective character studies of "Old Joy" and "Wendy and Lucy" to ponder the fates of three families and two bookended individuals, miles from a home that does not yet exist.
The Meek of the title is Bruce Greenwood's hired wilderness guide, leading a trio of young couples and their children through the Cascade Mountains to begin their lives anew in the west; a botched shortcut, however, has left them drastically unmoored and ever more suspicious of their leader's intentions. As water runs out and panic sets in, the men kidnap a lone Native American (Rod Rondeaux) they suspect of spying on them and debate whether to kill him or let him lead them to safety instead; their disagreement brings longstanding tensions within the group – in particular, between Meek and hardy, plain-spoken frontier wife Emily (the wondrous Michelle Williams) – to breaking point.
Written by Reichardt's regular collaborator Jon Raymond, inspired by true events and women's Trail diaries, "Meek's Cutoff" could just as easily have been plucked from America's leanest great literature: Steinbeck might have fancied this expansive meditation on the human politics of trust from such bare-bones foundations. Reichardt's most evident creative touchstone, however, appears to be the raw poetry of America's revisionist 1970s cinema: Terrence Malick's harsh dream-realism comes repeatedly to mind (and not only because the Tree of Life is a recurring symbol in the film).
Certainly, Malick would have been proud to conjure the rhapsodic visuals on display here, as cinematographer Christopher Blauvelt, often shooting in dusky half-light or lantern-lit darkness, scrutinizes the Oregon landscape with a keen eye worthy of the painter Andrew Wyeth; the dust-smeared pastel palette is gloriously counter-intuitive, as is Reichardt's unusual decision to shoot these seemingly infinite vistas in the Academy ratio, making sky as looming a threat as earth. (It's not every film that gives its location scout a whole-screen credit: one Roger Faires has certainly earned his.)
Such filmmaking's near-spiritual devotion to landscape can occasionally swallow human players, but while big names (for this director, at least) like Paul Dano and Shirley Henderson feel a tad lost in the mix, Reichardt once more brings out the very best in Williams. As the story's principal conduit of reason and morality, Emily could be a dour presence, but the actress is instead softly watchful and drily, unexpectedly, funny: "I want him to owe me something," she crisply explains when granting the Cayuse intruder an unsolicited favor.
In Williams, Reichardt has found an actor capable of matching her contained integrity and opening it out to a broader audience; long may this partnership continue. Long, too, may Reichardt continue to inquiringly scope out the backyard of American indie film, applying her immaculate technical precision and near-accidentally feminist gaze to more distant milieux. Adventurous, ambiguous and truthful, "Meek's Cutoff" may be a marvel in itself, but it only sets up greater expectations for the future.
[Photo: Evenstar Films]